Note: The information contained within the War on Human Health sections is merely a glance at some of the ways by which human health is under attack. It is by no means complete or comprehensive, and is only provided as a rough guide to promote further inquiry and study into these and other related topics. Please do not believe anything until you've confirmed its veracity for yourself, and please do not limit your research to that which I've presented here.
By continuing, you agree that you have read the Disclaimers.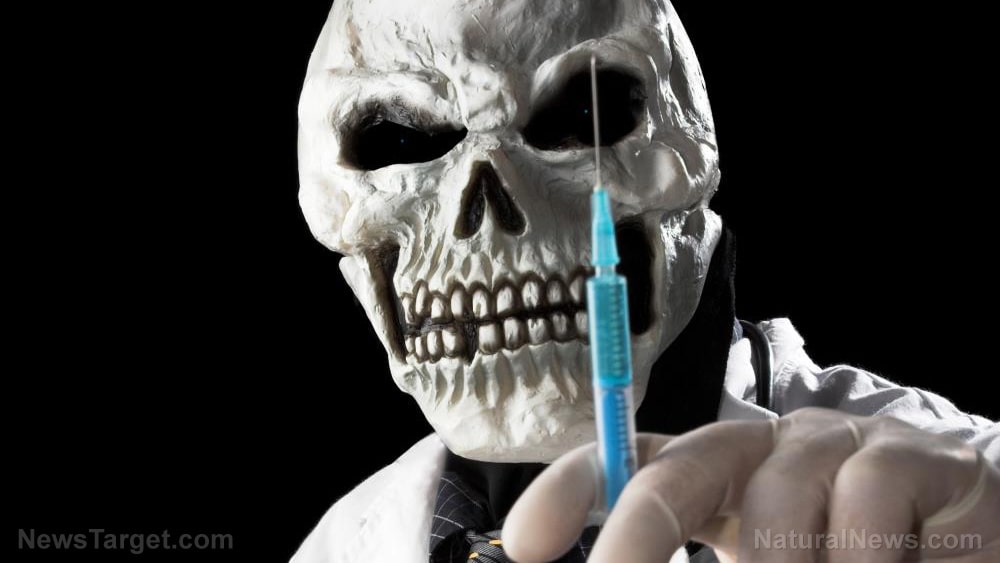 Vaccines are one of the control system's greatest weapons in its war against humanity. Billions of people have been deceived into believing they're safe and will prevent disease. But anyone who looks behind the curtain of propaganda will see a mountain of scientific evidence, growing larger by the day, showing that vaccines are neither safe nor effective.

While the industry, its paid shills, and those who simply don't know any better continue to repeat the lie that vaccines are safe and saved us from diseases such as polio, honest investigation into these matters shows this is not true.

http://www.collective-evolution.com/2012/02/18/the-polio-vaccine-myth-the-vaccine-stopped-polio/
20 Things You Don't Know About Polio
https://www.jchristoff.com/20-things-you-dont-know-about-polio-2
Dr. Sherri Tenpenny explains that the idea that vaccines saved us from dangerous diseases is nothing but a lie that's been repeated ad nauseum.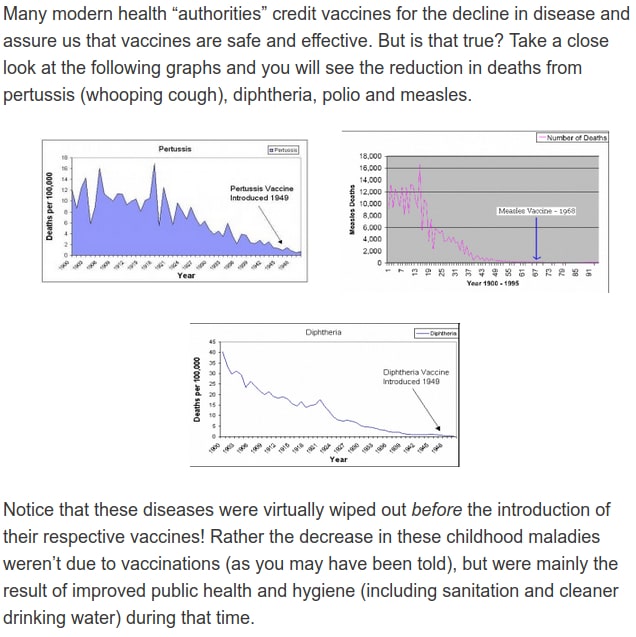 Text and graphs from https://thetruthaboutcancer.com/
From Robert F. Kennedy Jr.: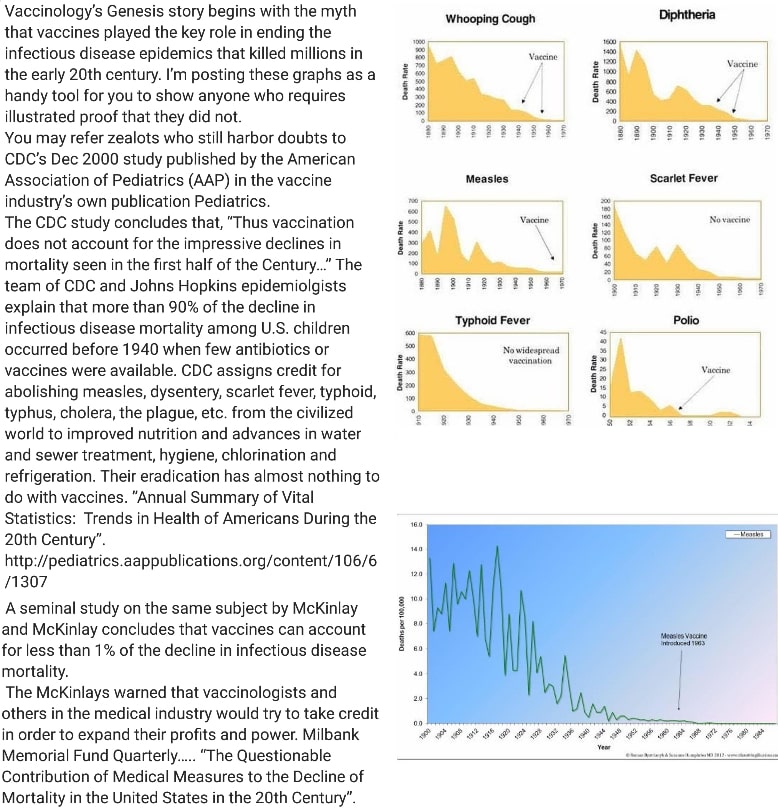 Science does not support the theory that vaccines are responsible for preventing any diseases.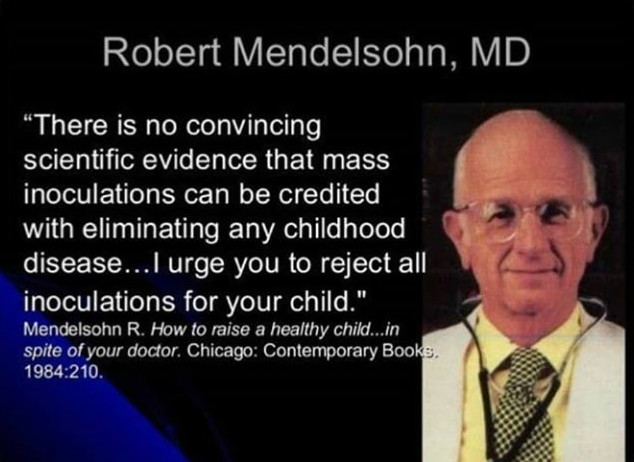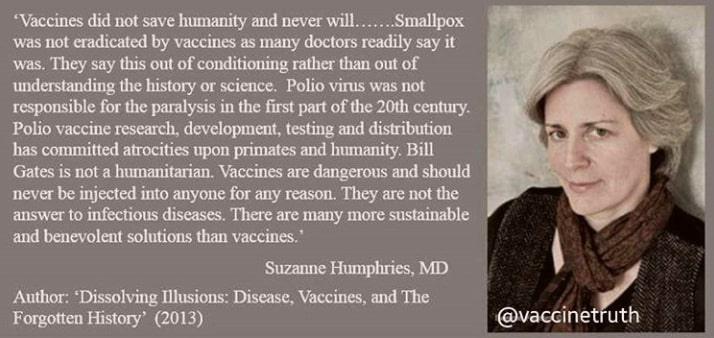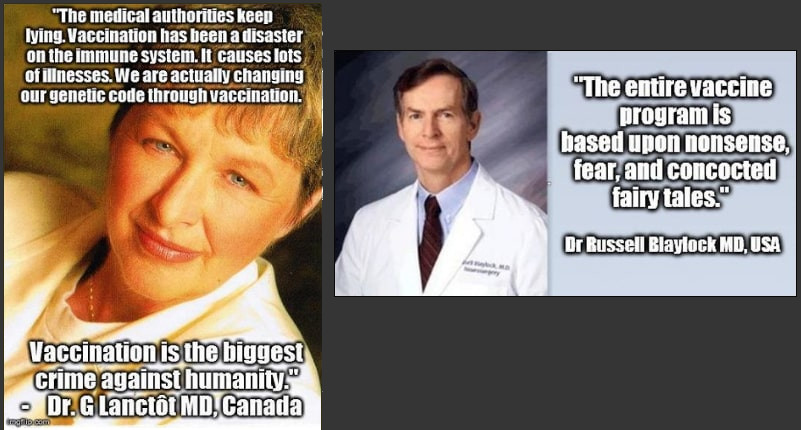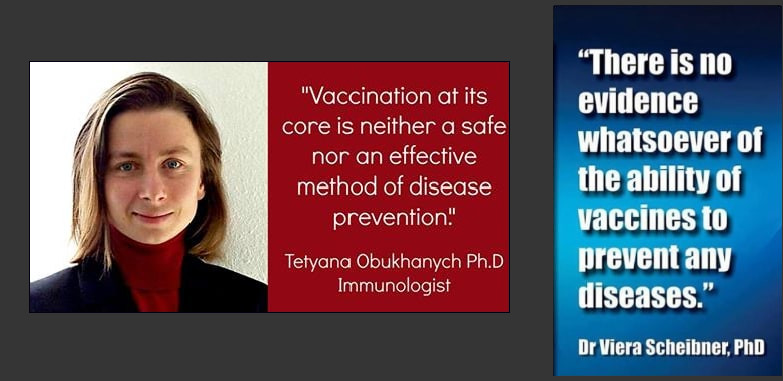 On the contrary, vaccines have been shown to cause the very diseases we're told they prevent.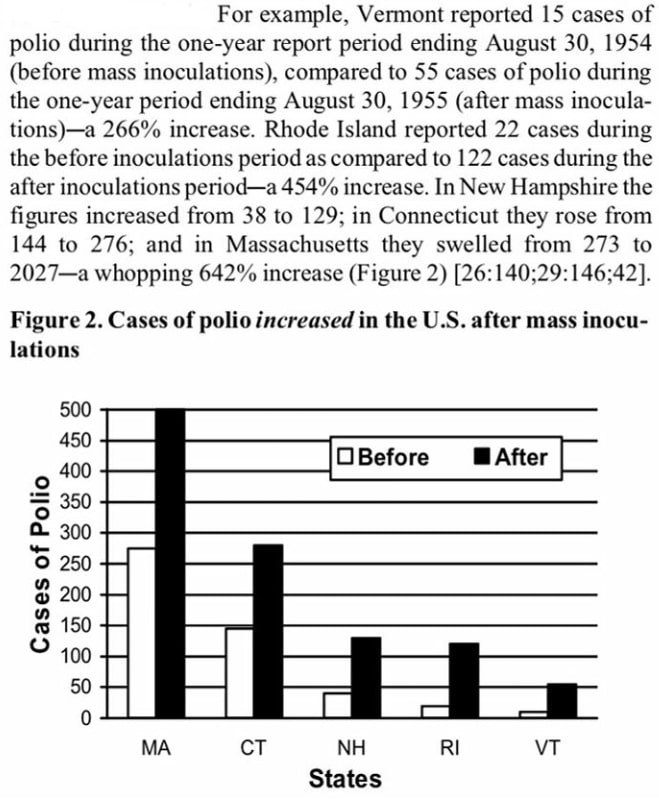 https://thefreethoughtproject.com/merck-shingles-vaccine-lawsuit/
Vaccines are a cocktail of poisonous ingredients.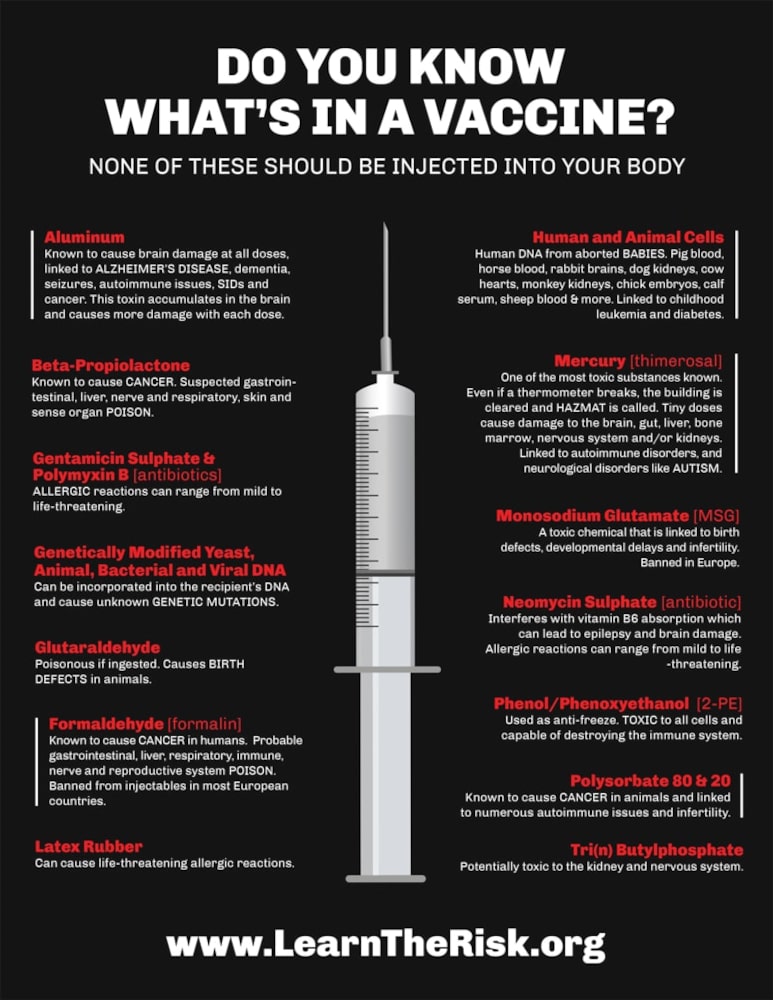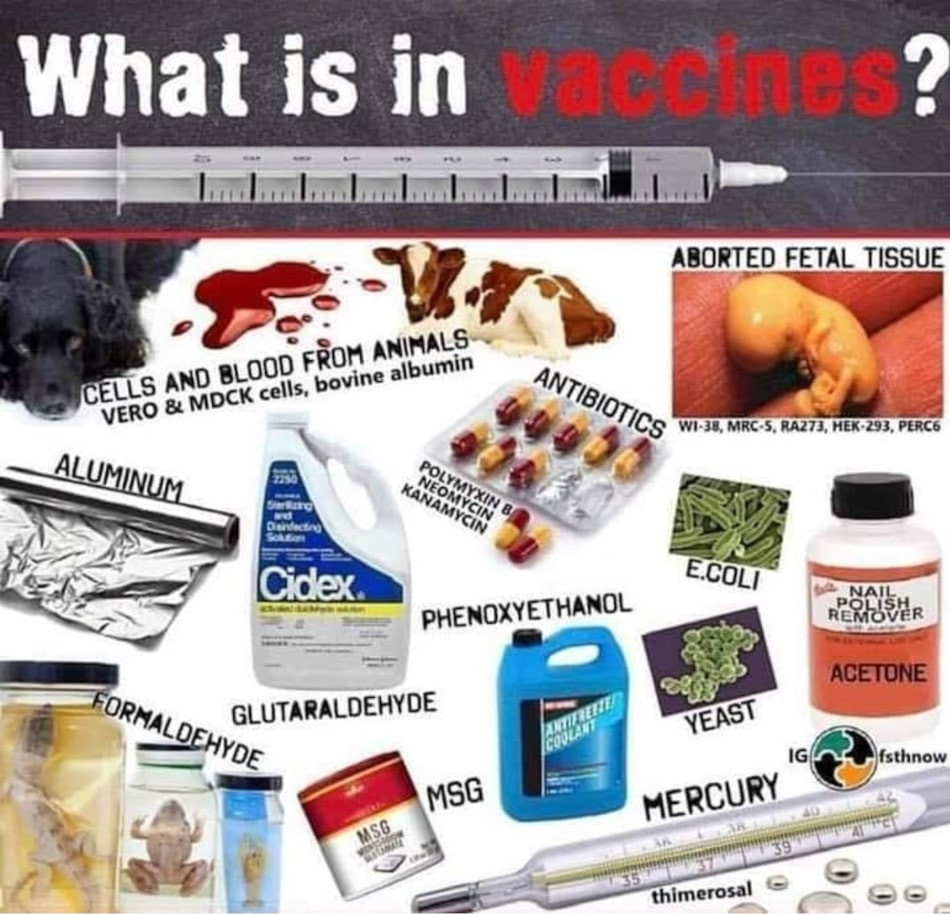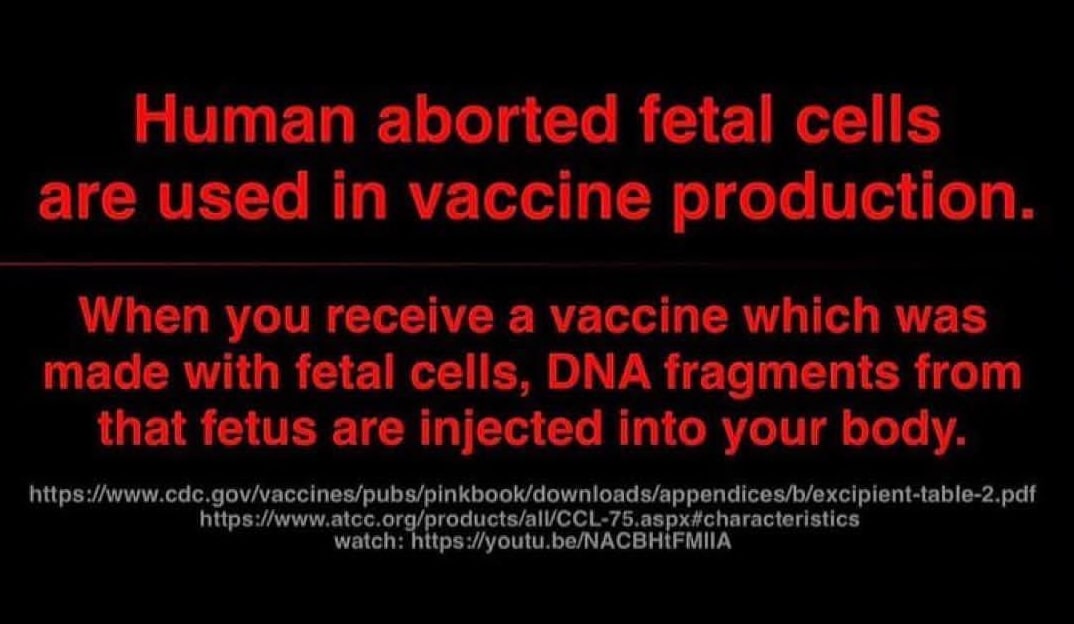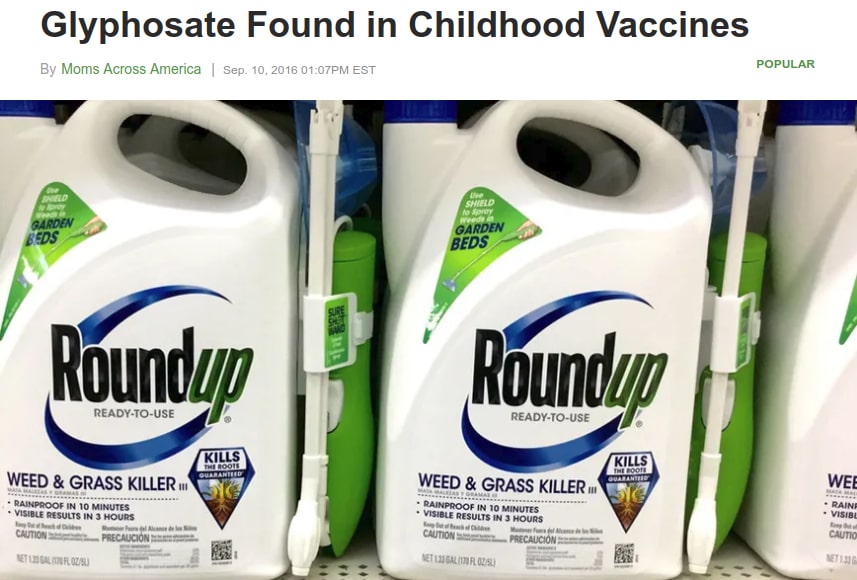 One particular ingredient, Polysorbate-80, is effective at penetrating the blood-brain-barrier, and helping to deliver toxins to the brain.

https://thevaccinereaction.org/2016/01/polysorbate-80-a-risky-vaccine-ingredient/
https://www.learntherisk.org/news/polysorbate/
Aluminum is another toxic ingredient that targets the brain.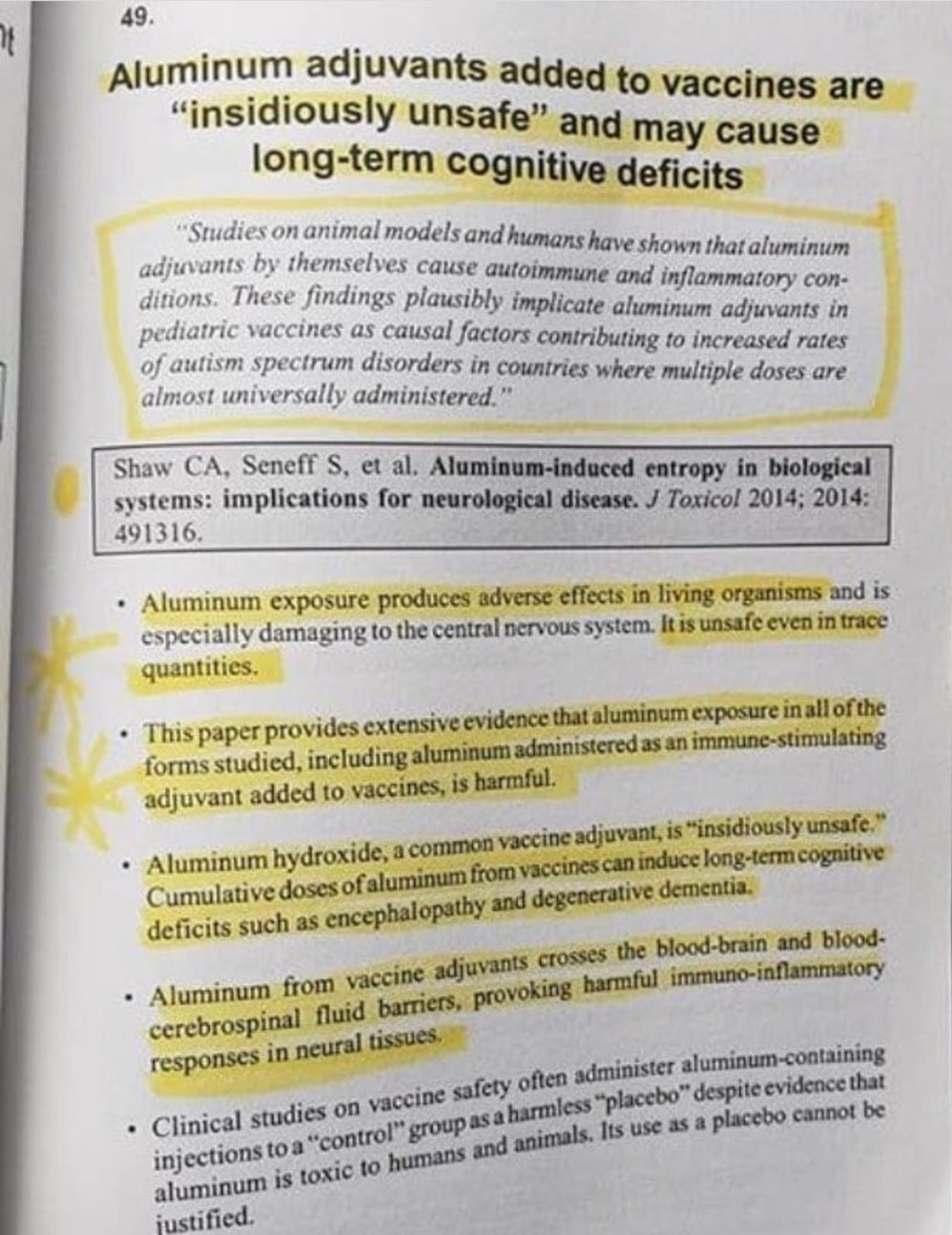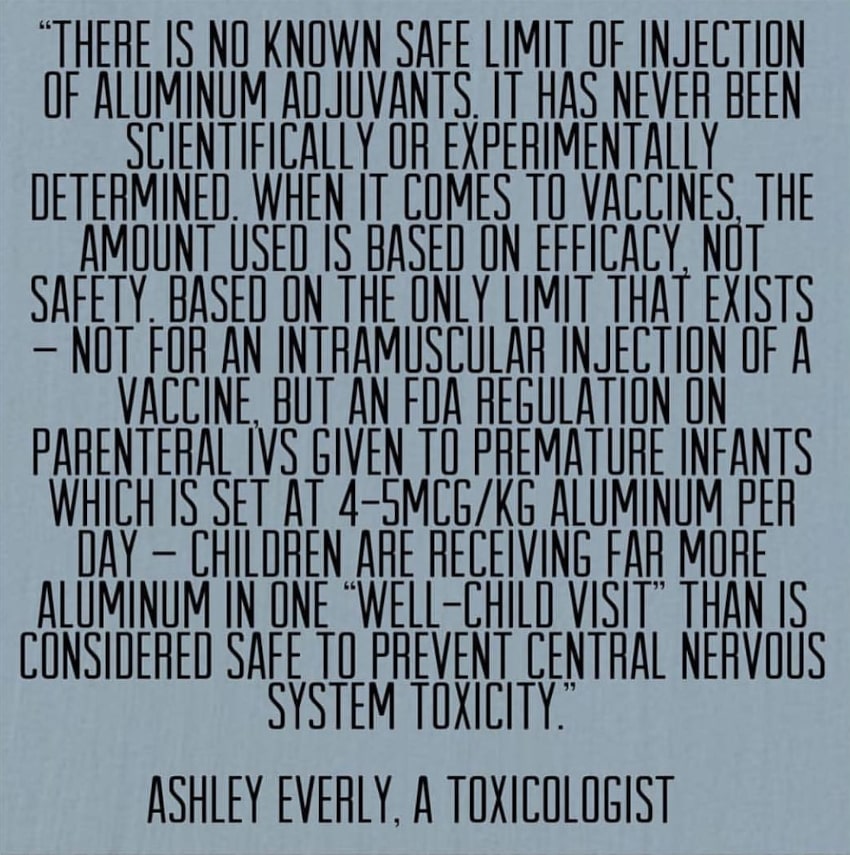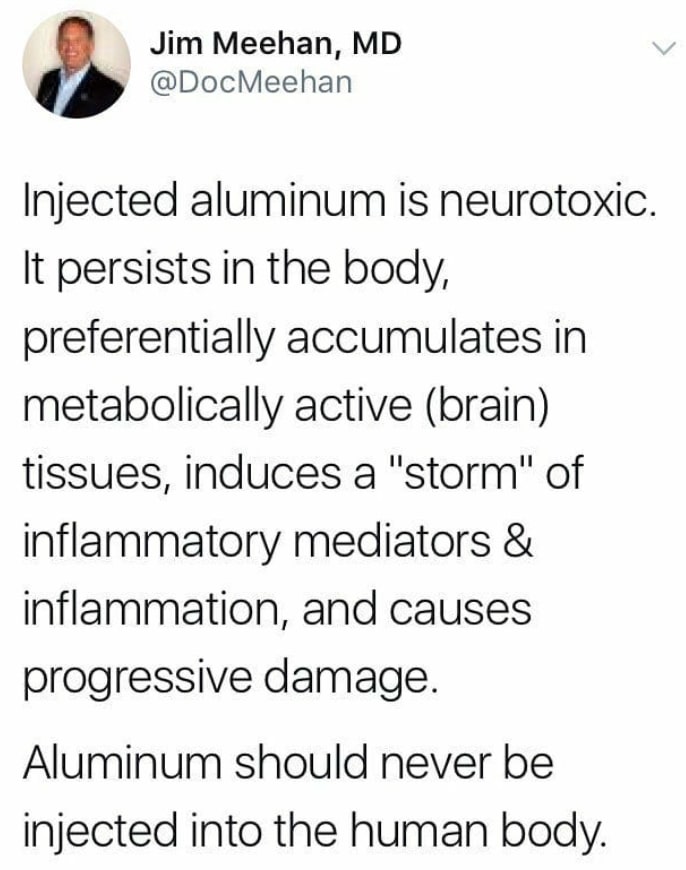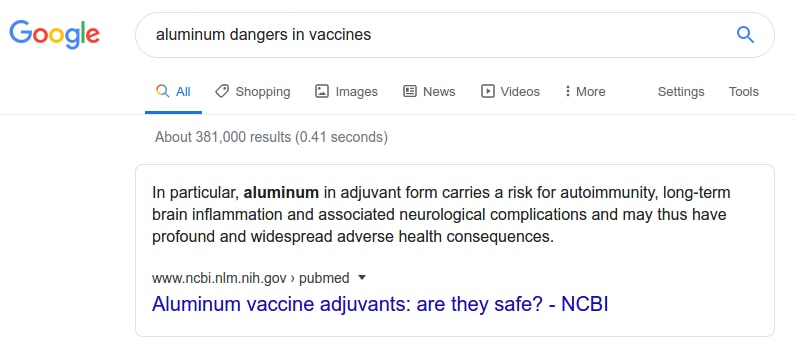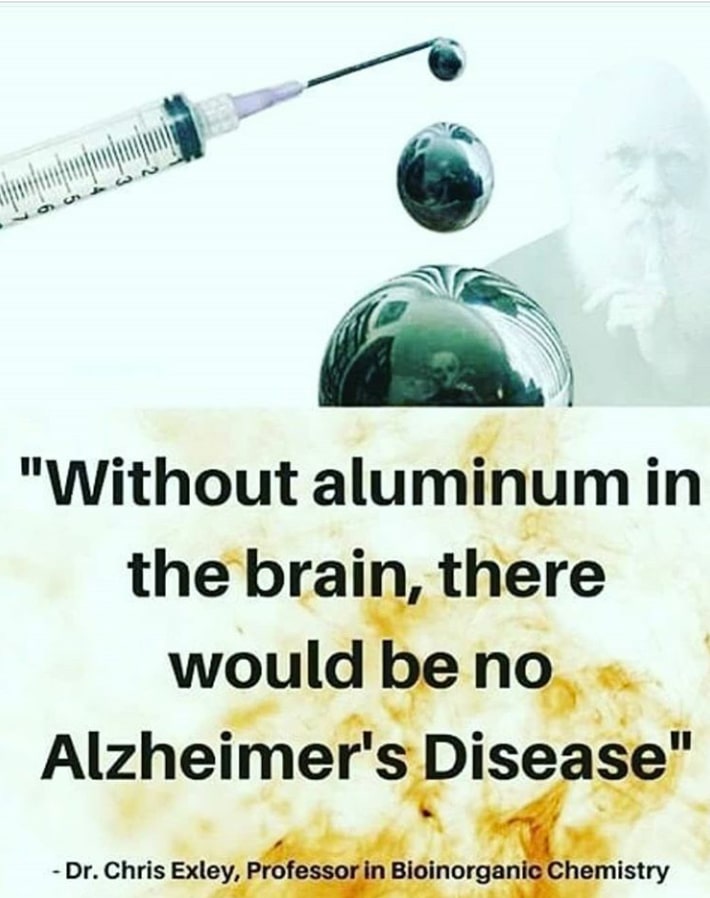 Foreign DNA, which is often taken from aborted babies, is added to certain vaccines, with catastrophic results.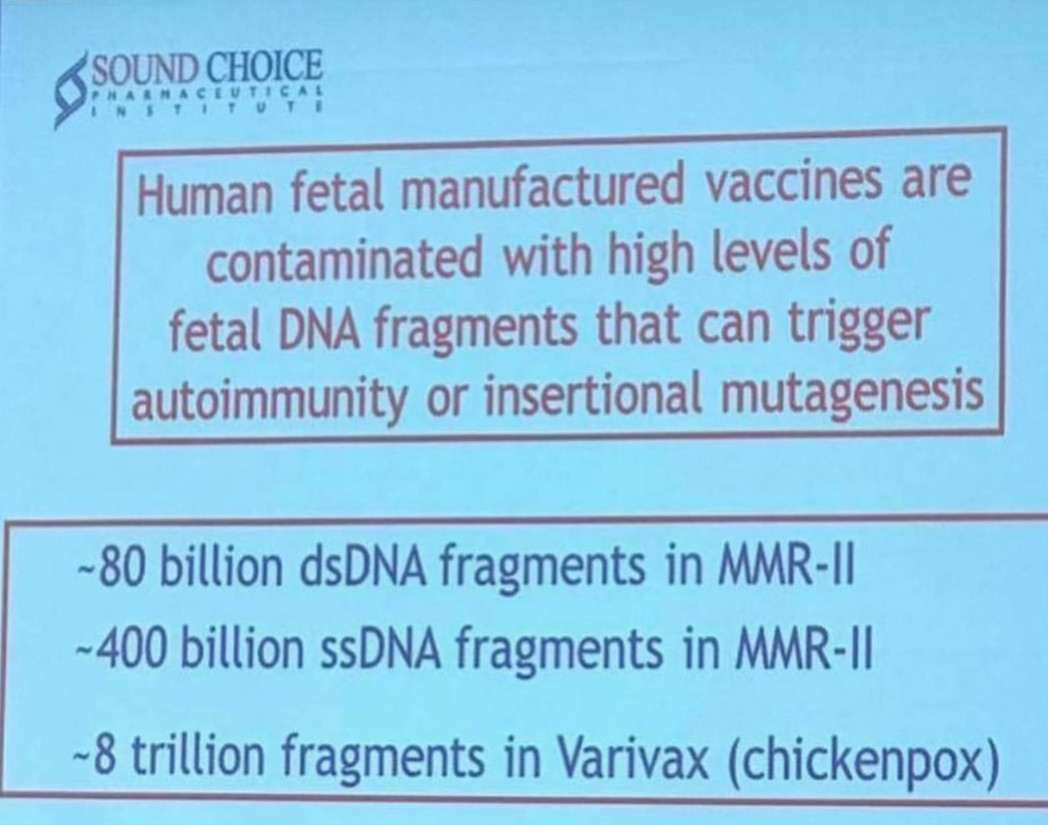 In Italy, the Corvelva Scientific Group studied the composition of one of the vaccines routinely given to children. They discovered that it was nothing more than a toxic chemical cocktail, with not a single ingredient that would have triggered immunity against any disease.

https://www.corvelva.it/speciali-corvelva/analisi/vaccingate-initial-results-on-infanrix-hexa-chemical-composition.html
Vaccines are so poisonous, a hazmat team is needed if one of the vials breaks.
The poisons in vaccines wreak havoc on the brain, the immune system, and damage the normal working processes of the human body. Vaccines, especially those containing the mercury-based preservative Thimerosal, have been scientifically linked to hundreds of ailments, including...
• Allergies
• Asthma
• Alzheimer's
• Guillan-Barre Syndrome
• Multiple Sclerosis
• Myalgia
• Arthritis
• Diabetes Mellitus
• Lupus
• Vasculitis
• Seizures
• Paralysis
• Meningitis
• Bell's Palsy
• Hair Loss
• Encephalitis
• Autism
• Sudden Infant Death Syndrome (SIDS)
• Various Autoimmune Disorders
• Cancer
• Infertility
• Death
See https://www.learntherisk.org/studies/ (if not working, see the archived page)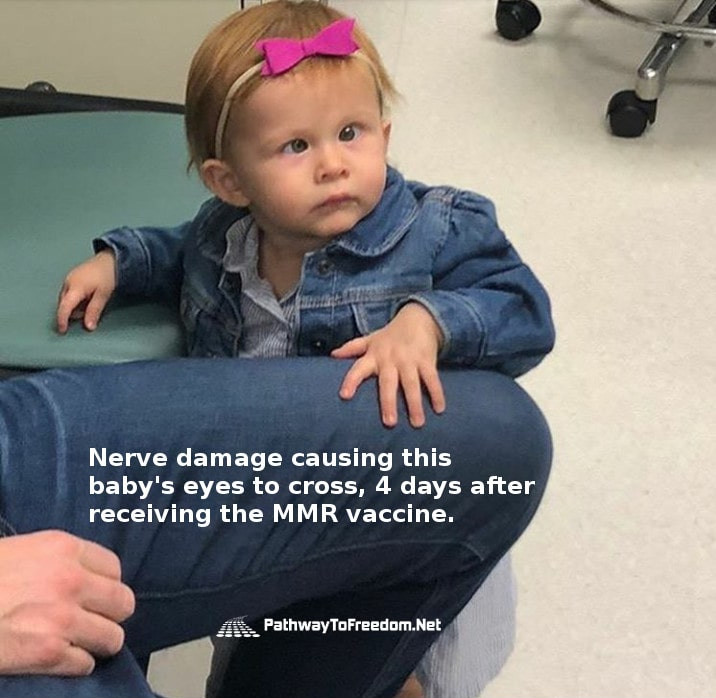 Official government disease diagnosis codes show that vaccines are, in fact, poisonous and do cause disease.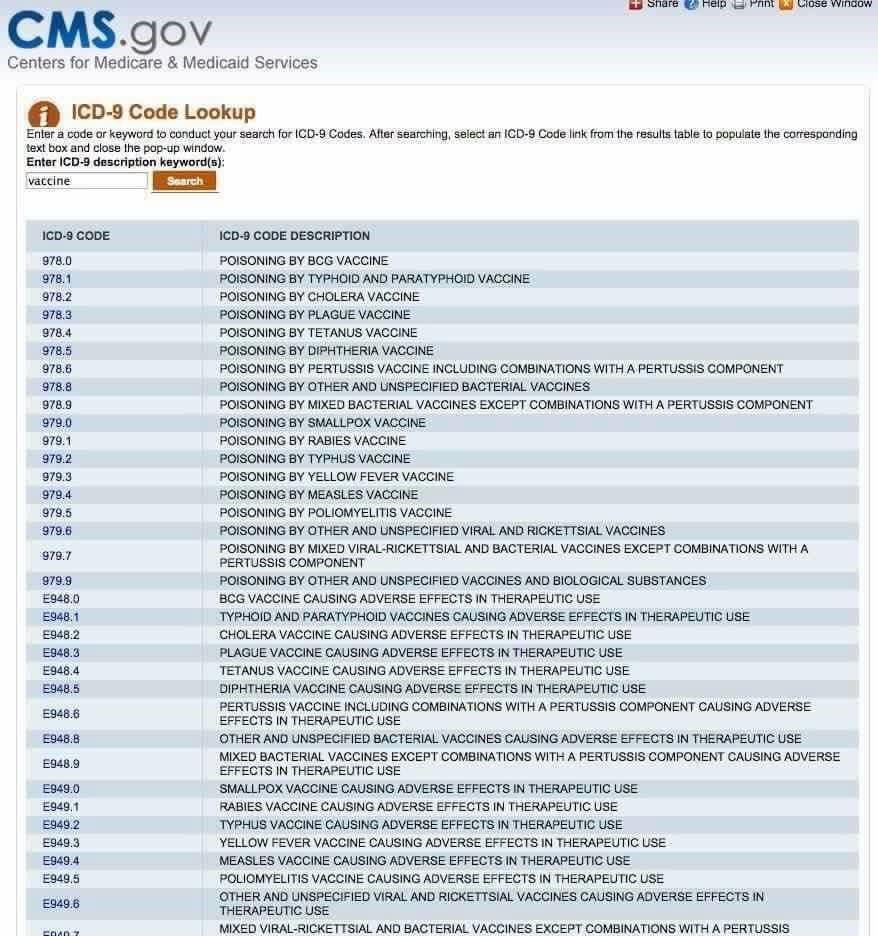 https://www.activistpost.com/2017/12/government-agencies-actually-admit-poisoning-vaccines-icd-9.html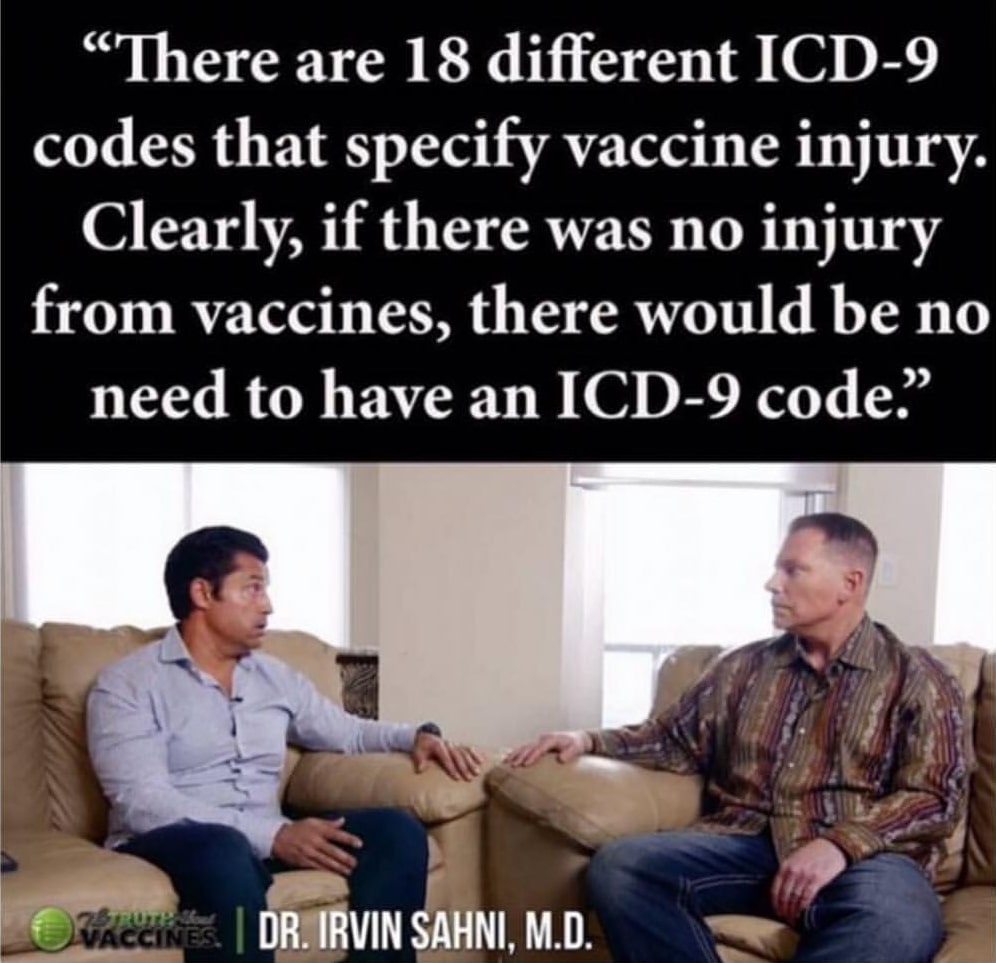 In 2011, the United States Supreme Court declared that vaccines are unavoidably unsafe.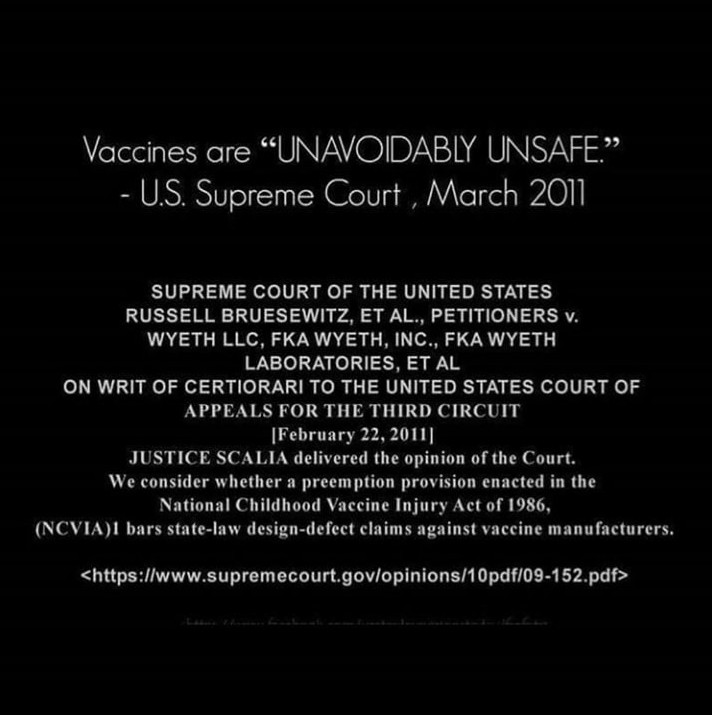 They are not tested to see whether they might cause cancer or infertility.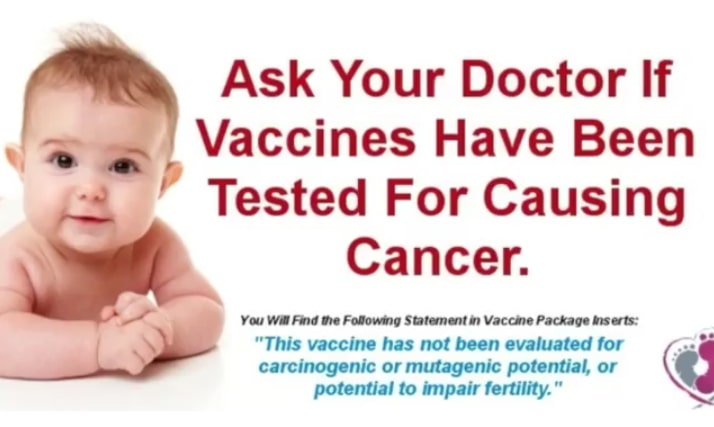 They are not tested using proper scientific protocols.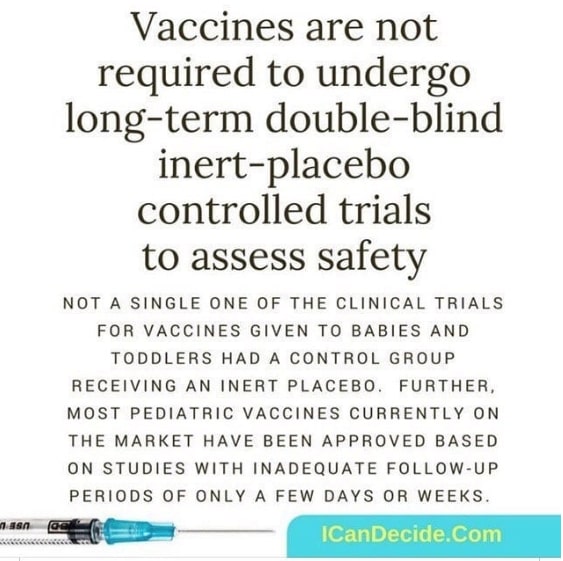 They are not tested in situations that would occur in real life.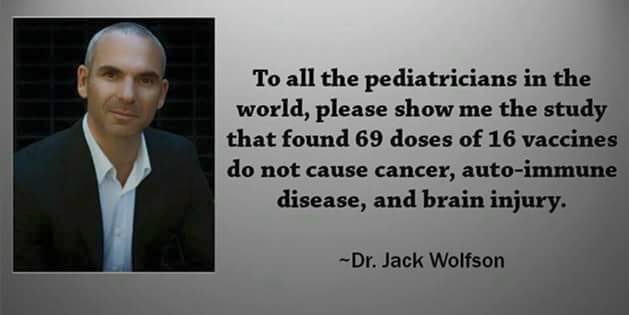 Those behind vaccines are not interested in proper research, because that research would expose vaccines as fraudulent.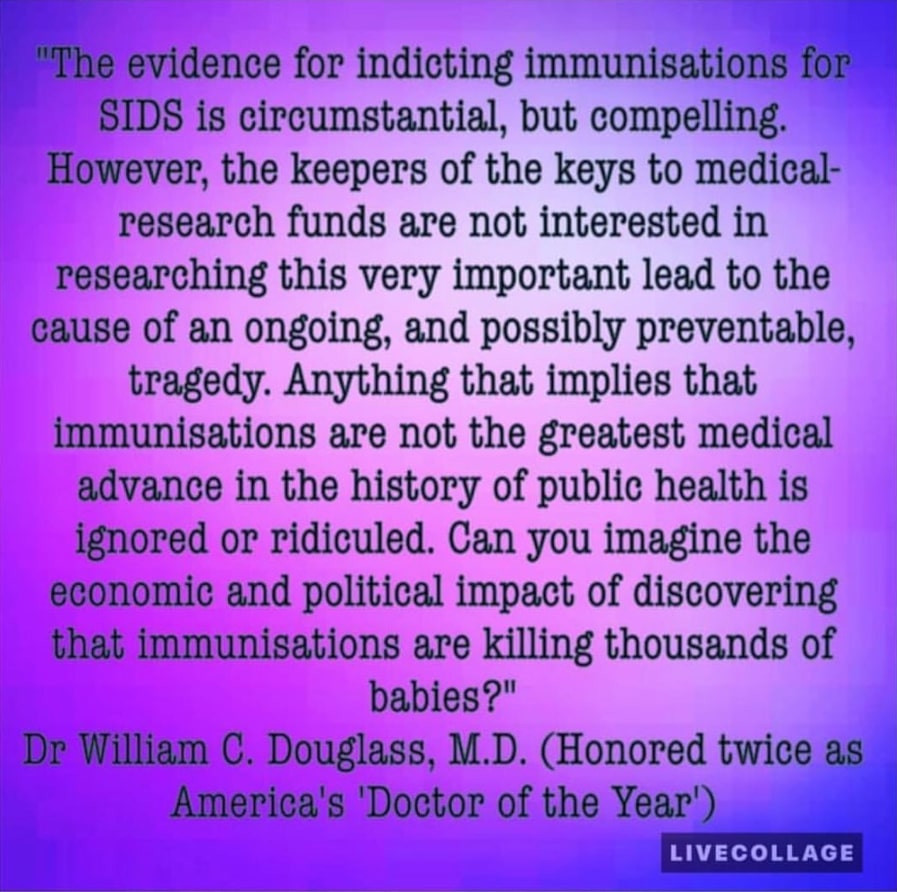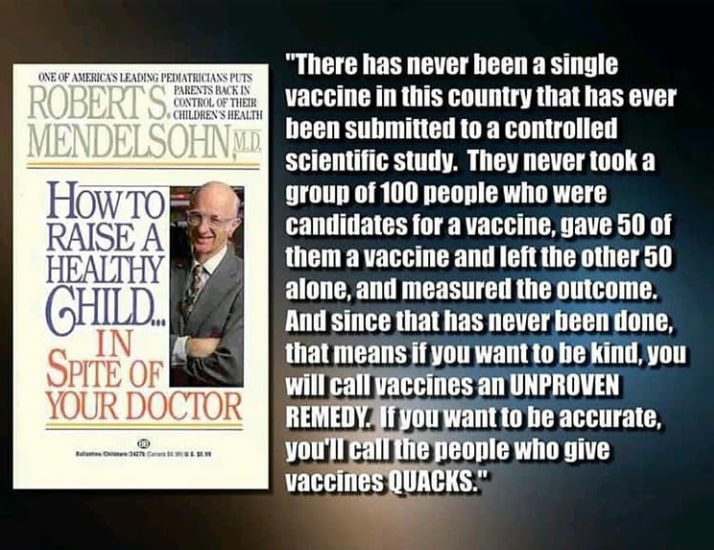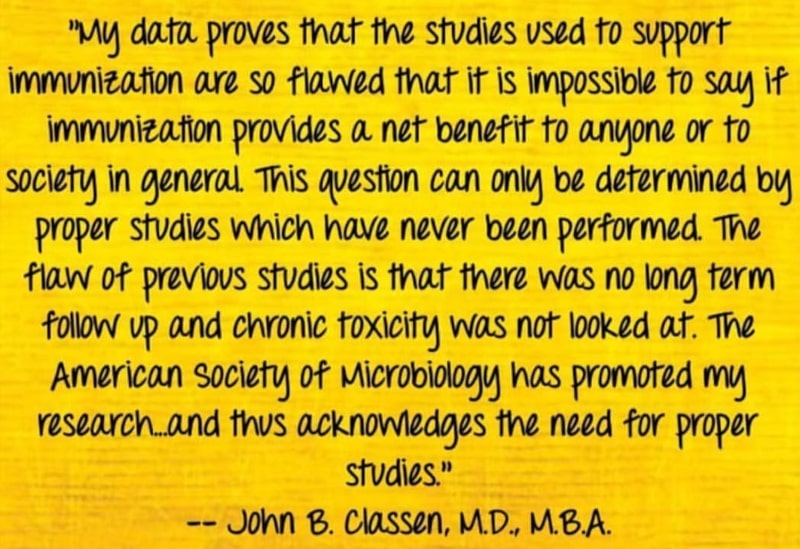 The harmful effects of vaccines and the corruption covering up the truth have been well documented.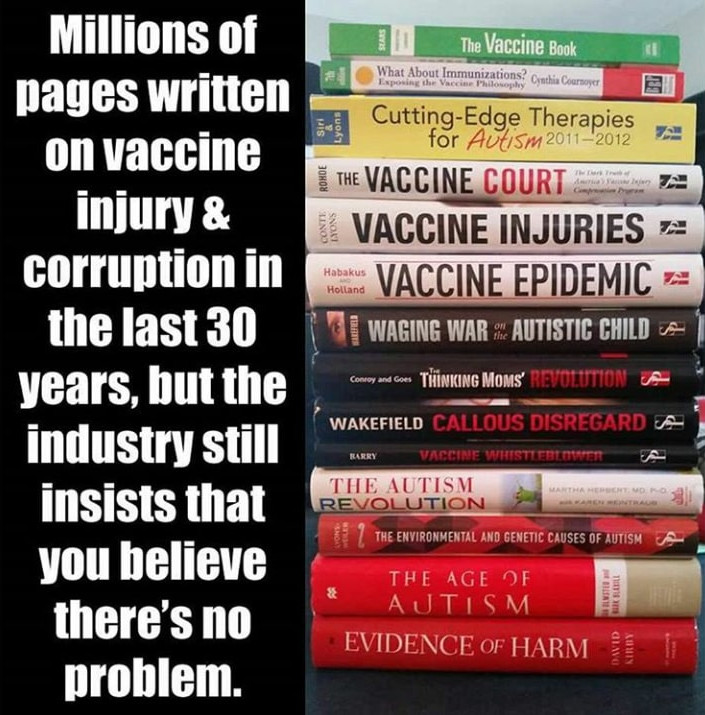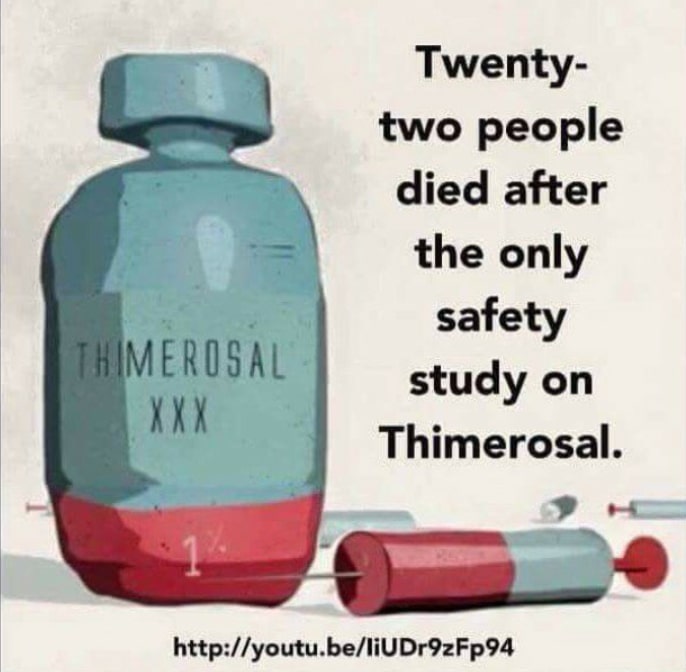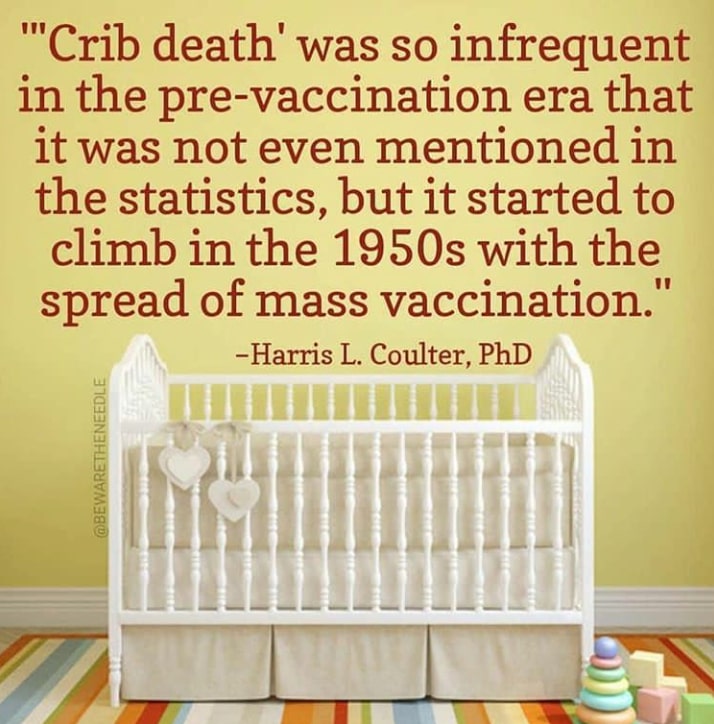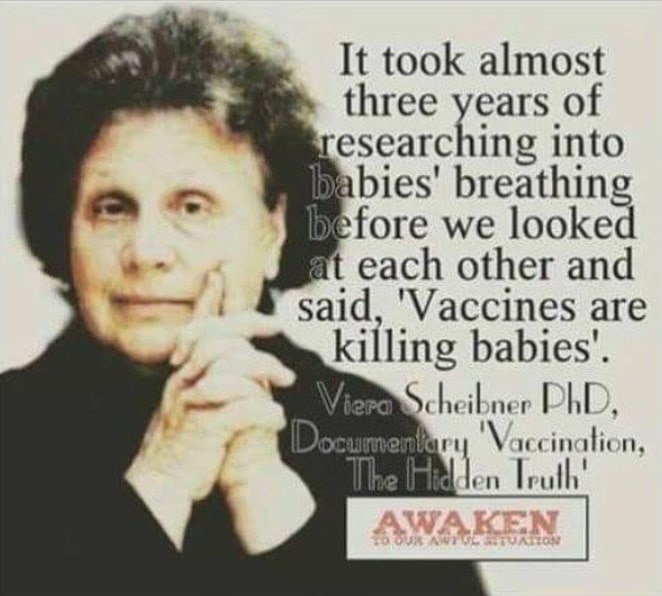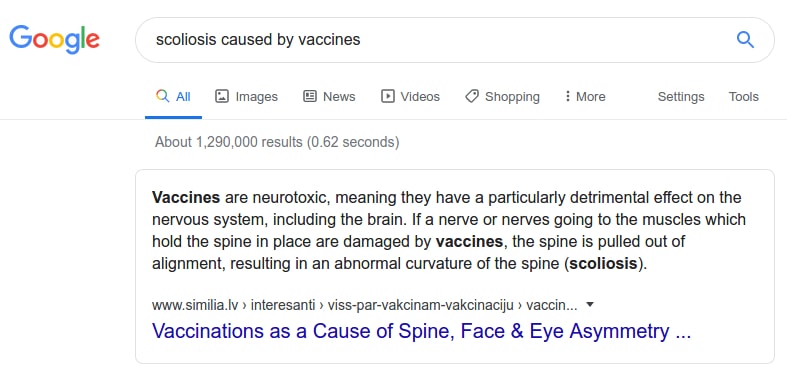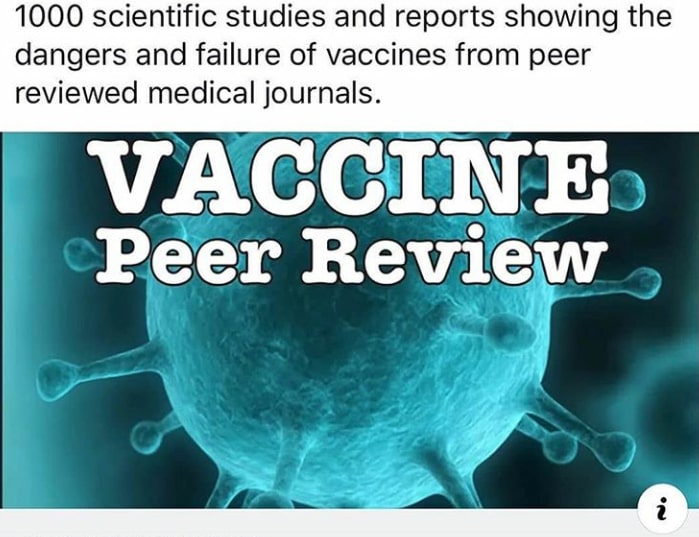 http://vaccine-injury.info/pdf/vaccinepeerreview.pdf
"When poison is taken by the mouth, the internal defense system has a chance to quickly eject some of it by vomiting, but when the poisons are shot directly into the body, bypassing all the natural safeguards, these dangerous poisons circulate immediately throughout the entire body in a matter of seconds and keep on circulating until all the cells are poisoned."
-Eleanor I. McBean, PhD, N.D.
VAERS is the official U.S. Government database for reporting adverse reactions from vaccines. Here, one can read about the thousands of incidents of reported harm.

It's been determined that less than 1% of adverse reactions are reported to the database, so the actual number of incidents is undoubtedly much greater than what's reported.

While the government claims vaccines are safe, effective, and prevent deaths, their own statistics reveal the exact opposite is true.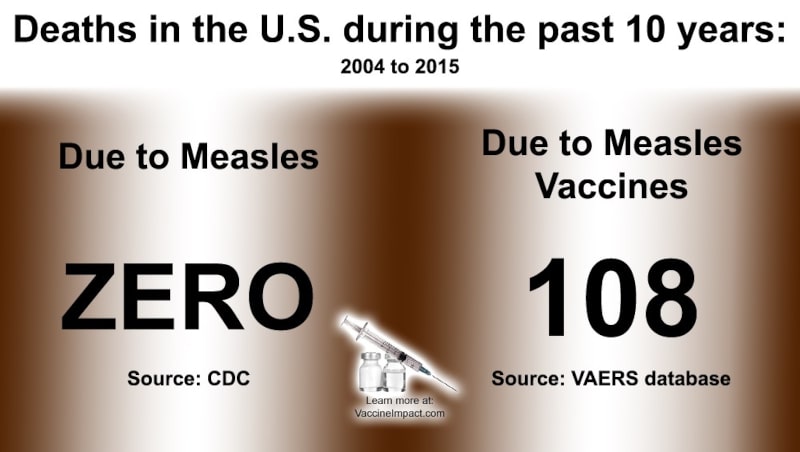 In spite of massive numbers of injuries and deaths caused by vaccines, vaccine makers in the United States cannot be sued.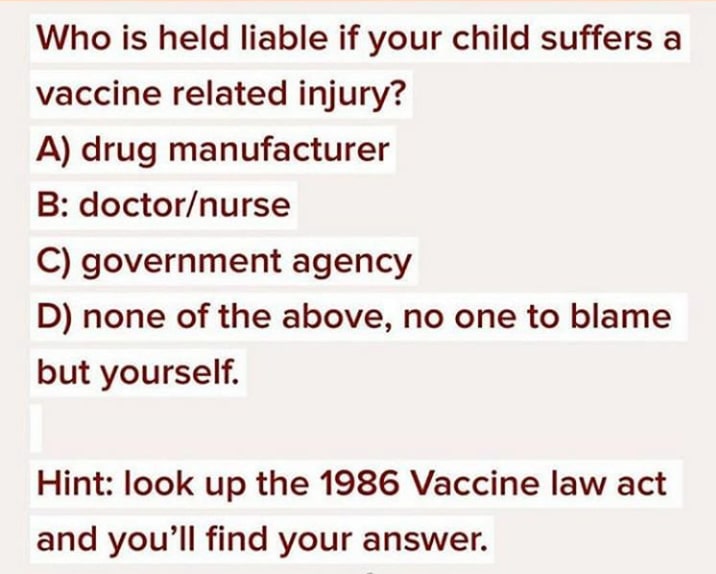 Lawsuits are dealt with in a secret vaccine court, where payouts are funded by the taxpayers, and cases are dealt with in private. This was a gift from the corrupt government to the pharmaceutical companies, which are protected from legal action, while the masses remain unaware, thanks to the corrupt mainstream media, which never mentions the existence of the court or its proceedings.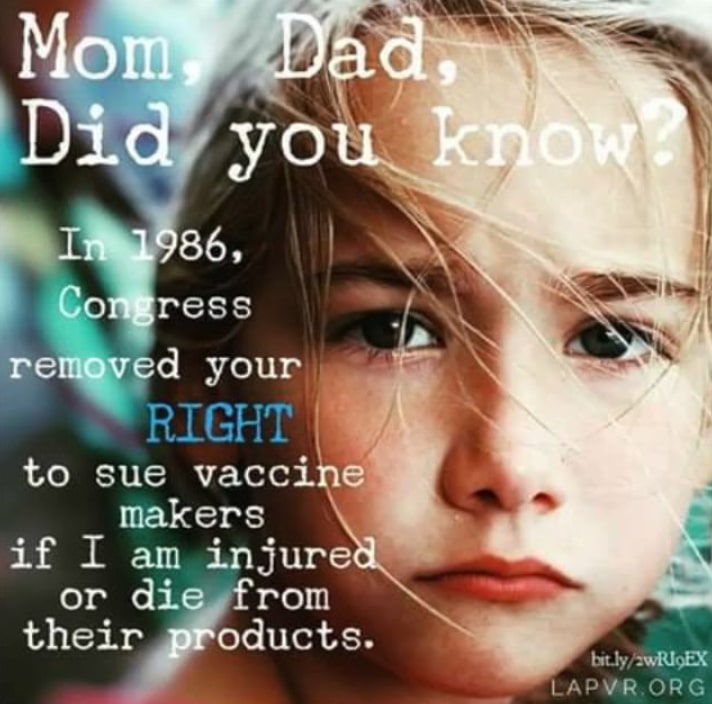 Vaccine manufacturers are exempt from liability, no matter how many babies and children their products maim and kill. As of late 2018, the court has paid out over 4 billion dollars in compensation to vaccine victims and their families, with not a word mentioned by the mainstream media. The payouts come from the pockets of the people, the very same people whose children are being maimed and killed by the vaccines.
https://www.hrsa.gov/sites/default/files/hrsa/vaccine-compensation/data/monthly-stats-may-2019.pdf
It's a colossal scam being perpetrated against an ignorant and uninformed public.
https://www.fairwarning.org/2018/12/vaccine-court-pays-billions/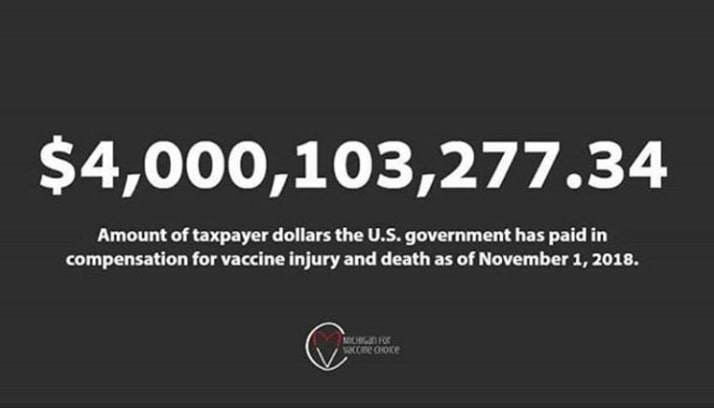 The protection from liability has resulted in the pharmaceutical companies increasing the numbers of vaccine doses to what can only be described as insane levels, with many more vaccines coming down the pipeline.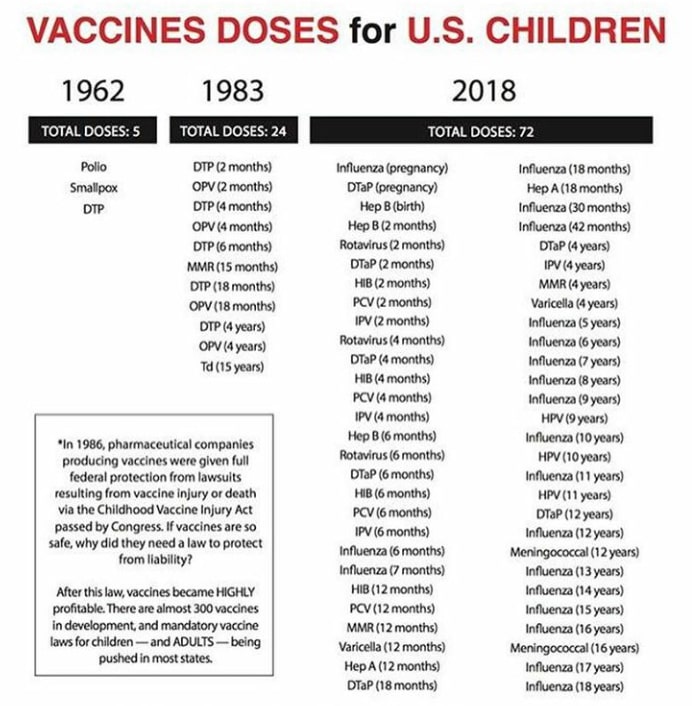 The Center for Disease Control (CDC), which oversees U.S. vaccine policy, is not looking out for the health and well-being of babies and children; instead, it's part of the corrupt vaccine industry itself.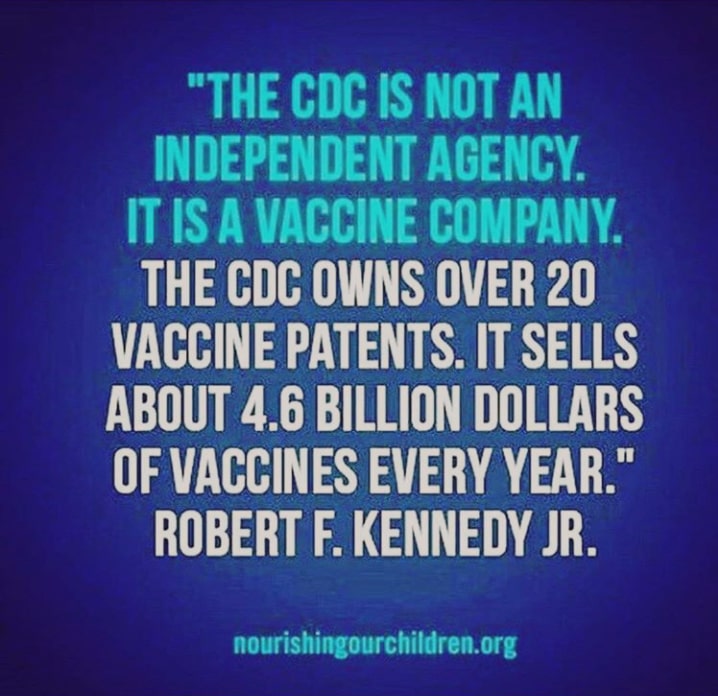 In spite of fierce denials by those who aim to protect pharmaceutical profits and other darker agendas, vaccines have been scientifically shown to cause autism. Some vaccine inserts have even listed autism as a side-effect.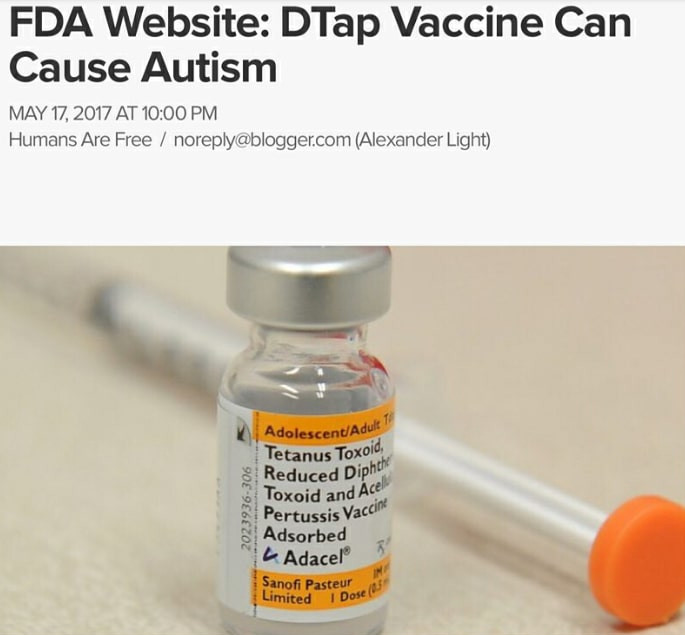 http://humansarefree.com/2017/05/fda-website-dtap-vaccine-can-cause.html
There are numerous scientific studies that link autism to vaccines...
For example:
"...the present study provides new epidemiological evidence supporting an association between increasing organic-Hg exposure from Thimerosal-containing childhood vaccines and the subsequent risk of an Autism Spectrum Disorder diagnosis."
https://www.ncbi.nlm.nih.gov/pmc/articles/PMC3878266
"A positive association found between autism prevalence and childhood vaccination uptake across the U.S. population."
https://www.ncbi.nlm.nih.gov/pubmed/21623535
"In 2004, the US Center for Disease Control (CDC) published a paper showing that there is no link between the age at which a child is vaccinated with MMR and the vaccinated children's risk of a subsequent diagnosis of autism. One of the authors, William Thompson, has now revealed that statistically significant information was deliberately omitted from the paper. Thompson first told Dr S Hooker, a researcher on autism, about the manipulation of the data. Hooker analysed the raw data from the CDC study afresh. He confirmed that the risk of autism among African American children vaccinated before the age of 2 years was 340% that of those vaccinated later."
https://www.ncbi.nlm.nih.gov/pubmed/25377033
"There are over 165 studies that have focused on Thimerosal, an organic-mercury (Hg) based compound, used as a preservative in many childhood vaccines, and found it to be harmful. Of these, 16 were conducted to specifically examine the effects of Thimerosal on human infants or children with reported outcomes of death; acrodynia; poisoning; allergic reaction; malformations; auto-immune reaction; Well's syndrome; developmental delay; and neurodevelopmental disorders, including tics, speech delay, language delay, attention deficit disorder, and autism. ...in a study conducted directly by CDC epidemiologists, a 7.6-fold increased risk of autism from exposure to Thimerosal during infancy was found."
https://www.ncbi.nlm.nih.gov/pubmed/24995277
"...we suggest that an inappropriate antibody response to [the] MMR [vaccine], specifically the measles component thereof, might be related to pathogenesis of autism."
https://www.ncbi.nlm.nih.gov/pubmed/12145534
"Findings suggest that U.S. male neonates vaccinated with the hepatitis B vaccine prior to 1999 (from vaccination record) had a threefold higher risk for parental report of autism diagnosis compared to boys not vaccinated as neonates during that same time period."
https://www.ncbi.nlm.nih.gov/pubmed/21058170
"...(i) children from countries with the highest Autism Spectrum Disorder prevalence appear to have the highest exposure to Aluminum from vaccines; (ii) the increase in exposure to Aluminum adjuvants significantly correlates with the increase in Autism Spectrum Disorder prevalence in the United States observed over the last two decades ; and (iii) a significant correlation exists between the amounts of Aluminum administered to preschool children and the current prevalence of Autism Spectrum Disorder in seven Western countries, particularly at 3-4 months of age."
https://www.ncbi.nlm.nih.gov/pubmed/22099159
"The MMR vaccine has been linked to autism, Crohn's disease, inflammatory bowel disease[142,143] and other serious chronic stomach problems[144], epilepsy, brain damage including meningitis[145,146], cerebral palsy, pancreatitis[147] and diabetes mellitus[148–150], encephalopathy, encephalitis[151,152], hearing and vision problems, arthritis, behavioural and learning problems, chronic fatigue syndrome, diabetes, Guillain-Barre syndrome, idiopathic thrombocytopaenic purpura, subacute sclerosing panencephalitis (SSPE), leukaemia, multiple sclerosis, and death."
https://www.ncbi.nlm.nih.gov/pmc/articles/PMC3364648
"...8 of 9 patients examined were exposed to significant mercury from Thimerosal-containing biologic/vaccine preparations during their fetal/infant developmental periods, and subsequently, between 12 and 24 mo of age, these previously normally developing children suffered mercury toxic encephalopathies that manifested with clinical symptoms consistent with regressive Autism Spectrum Disorders."
https://www.ncbi.nlm.nih.gov/pubmed/17454560
"[Mercury, found in vaccines] has been found to cause immune, sensory, neurological, motor, and behavioural dysfunctions similar to traits defining/associated with Autism Spectrum Disorders."
https://www.ncbi.nlm.nih.gov/pubmed/19106436
"Autism spectrum disorder (ASD) is a neurological disorder in which a significant number of the children experience a developmental regression characterized by a loss of previously acquired skills and abilities. Typically reported are losses of verbal, nonverbal, and social abilities...
...The interplay of [thimerosal, a mercury-based ingredient used in vaccines] with the abnormal sulfation chemistry and limited thiol availability and redox capacity observed in those diagnosed with an Autism Spectrum Disorder is likely an integral factor in the etiology of autism."
https://www.ncbi.nlm.nih.gov/pmc/articles/PMC3774468
"...certain [autism-diagnosed] individuals with a mild mitochondrial defect may be highly susceptible to mitochondrial specific toxins like the vaccine preservative thimerosal."
https://www.ncbi.nlm.nih.gov/pmc/articles/PMC3697751
"Documented causes of autism include genetic mutations and/or deletions, viral infections, and encephalitis following vaccination."
https://www.ncbi.nlm.nih.gov/pubmed/21299355
"It is hypothesized here that the introduction of the Hib conjugate vaccine in the US in 1988 and its subsequent introduction in Denmark and Israel could explain a substantial portion of the initial increases in Autism Spectrum Disorders in those countries."
https://www.ncbi.nlm.nih.gov/pubmed/21993250
"...many cases of idiopathic autism are induced by early mercury exposure from [vaccine preservative] thimerosal"
https://www.ncbi.nlm.nih.gov/pubmed/11339848
"Each Autism Spectrum Disorder patient's mother was determined to have been administered a [thimerosal injection] during her pregnancy."
https://www.ncbi.nlm.nih.gov/pubmed/17674242
"Recently emerging evidence suggests that mercury, especially from childhood vaccines, appears to be a factor in the development of the autistic disorders, and that autistic children have higher than normal body-burdens of mercury."
https://www.ncbi.nlm.nih.gov/pubmed/15780490
"...the present study provides further insight into one possible mechanism by which early mercury exposures could increase the risk of autism."
https://www.ncbi.nlm.nih.gov/pubmed/12933322
"A careful review of Autism Spectrum Disorder cases discloses a number of events that adhere to an immunoexcitotoxic mechanism. This mechanism explains the link between excessive vaccination, use of aluminum and ethylmercury as vaccine adjuvants, food allergies, gut dysbiosis, and abnormal formation of the developing brain."
https://www.ncbi.nlm.nih.gov/pubmed/19043938
"...disease characteristics suggest this possibility:(a) Autism Spectrum Disorder traits are known to arise from mercury exposure; (b) onset of Autism Spectrum Disorder symptoms is temporally associated with administration of immunizations; (c) the reported increase in the prevalence of autism in the 1990s closely follows the introduction of two mercury-containing vaccines; and (d) elevated mercury has been detected in biological samples of autistic patients."
https://www.nature.com/articles/4001177
"...higher dose of neonatal thimerosal-mercury (20× higher than that used in human) is capable of inducing long-lasting substantial dysregulation of neurodevelopment, synaptic function, and endocrine system, which could be the causal involvements of autistic-like behavior in mice."
https://www.ncbi.nlm.nih.gov/pubmed/24675092
"Routine childhood vaccination may be an important public health tool to reduce infectious disease-associated morbidity/mortality, but the present study significantly associates organic-[mercury] exposure from [thimerosal] with an increased risk of an Neurodevelopmental Disorder diagnosis."
https://www.ncbi.nlm.nih.gov/pubmed/25198681
(List compiled by Vaccines Facts – http://www.instagram.com/vaccines__facts/)
126 additional studies linking vaccines to autism:
http://experimentalvaccines.org/wp-content/uploads/2015/02/86-Research-Papers-Supporting-the-Vaccine-Autism-Link.pdf
30 more studies linking vaccines to autism:
http://healthimpactnews.com/2013/30-scientific-studies-showing-the-link-between-vaccines-and-autism
Thousands of studies showing vaccines cause harm:
http://vaccine-injury.info/pdf/vaccinepeerreview.pdf
Many more thousands here:
https://web.archive.org/web/20201206210621/https://medscienceresearch.com/
A Research Database Focusing on Vaccine-Autism Links
http://www.greenmedinfo.com/anti-therapeutic-action/vaccination-all?ed=5795
Here's a vaccine insert. On page 11, autism is listed as a side effect.
http://vaccines.procon.org/sourcefiles/DTaP_Tripedia.pdf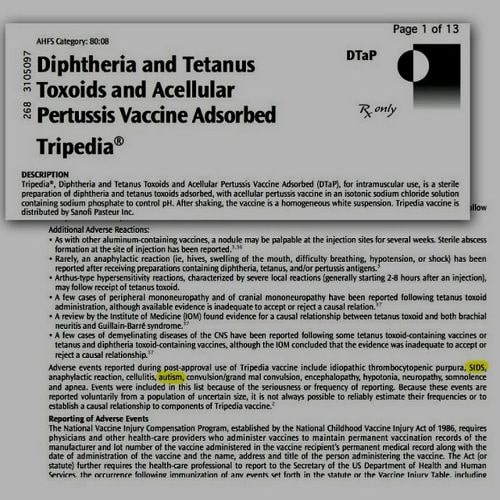 Courts in other countries are doing the same as the secret U.S. court, quietly awarding millions to victims of vaccine-induced autism:
http://www.ageofautism.com/us-italian-courts-award-millions-for-vaccine-autism-cases.html
83 Cases of Autism Associated with Childhood Vaccine Injury Compensated in Federal Vaccine Court
https://www.prnewswire.com/news-releases/83-cases-of-autism-associated-with-childhood-vaccine-injury-compensated-in-federal-vaccine-court-121570673.html
Monkeys given vaccines also developed autism.
http://vactruth.com/2012/04/29/monkeys-get-autism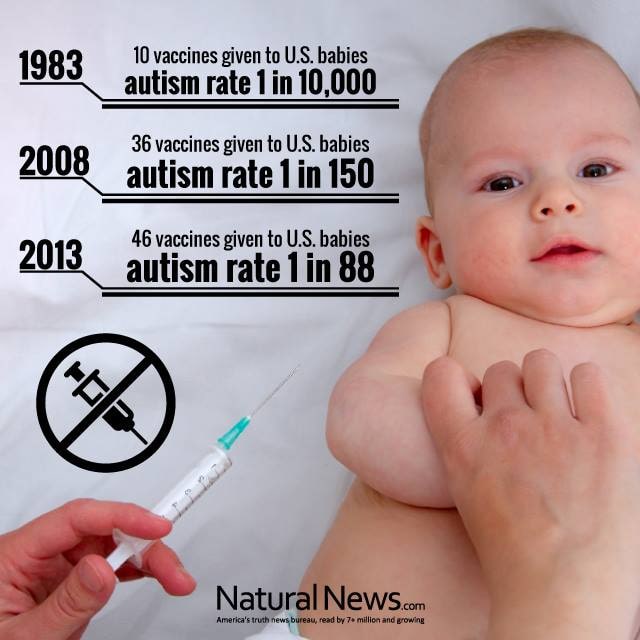 Those who claim there is no link between vaccines and autism are either ignorant, ill-informed, or lying.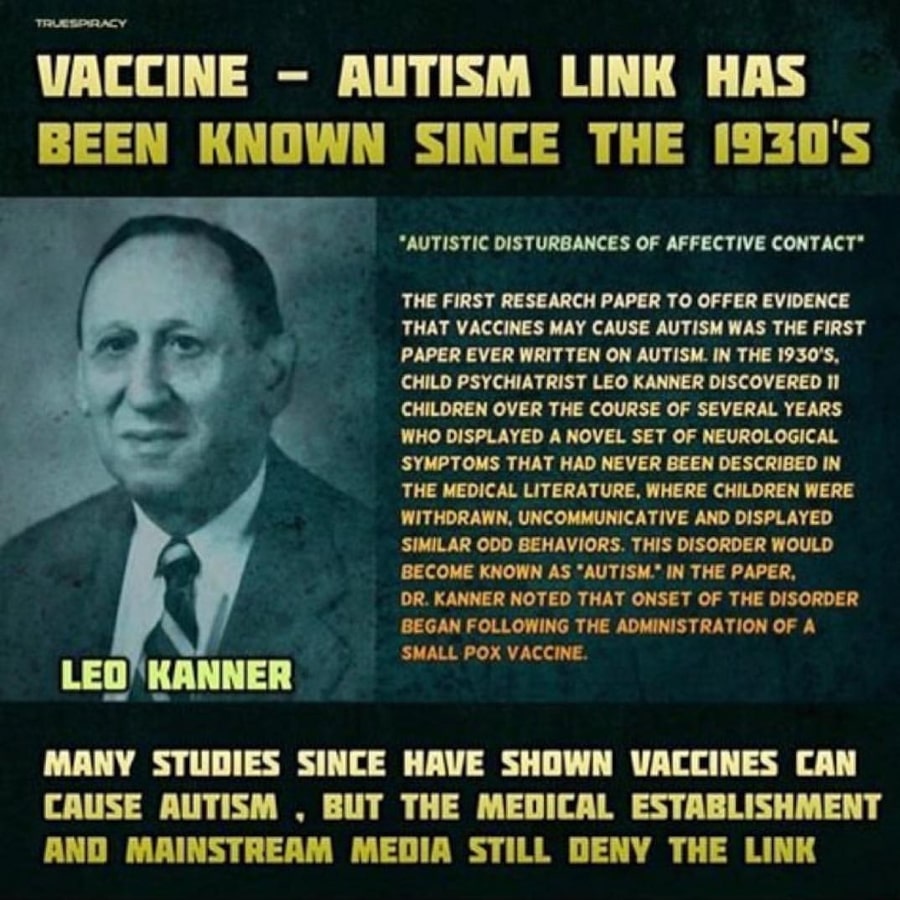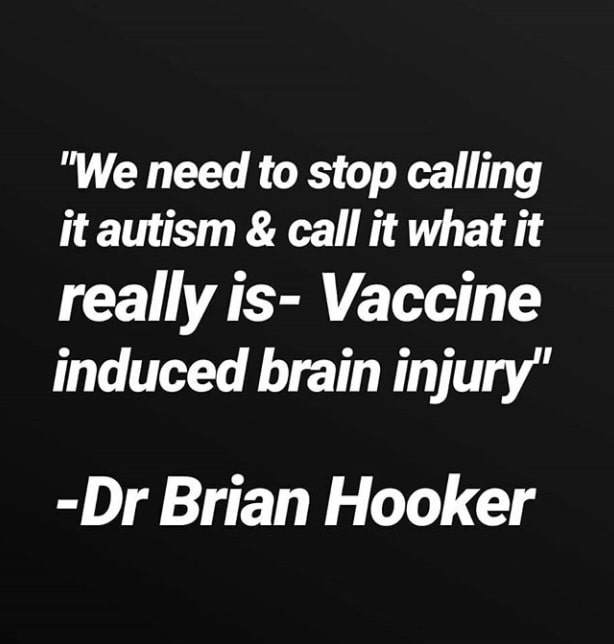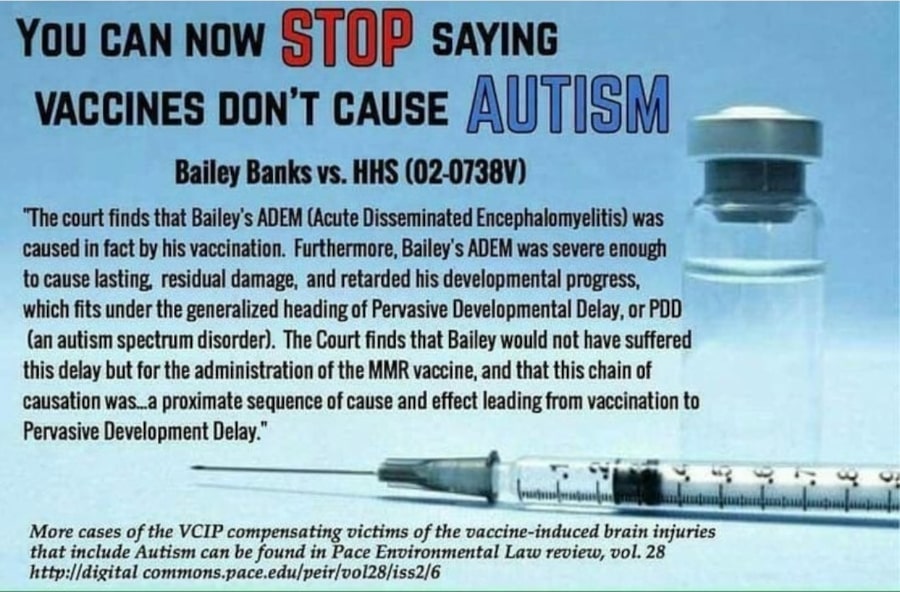 The science is clear.

(from https://www.ncbi.nlm.nih.gov/pmc/articles/PMC3364648/)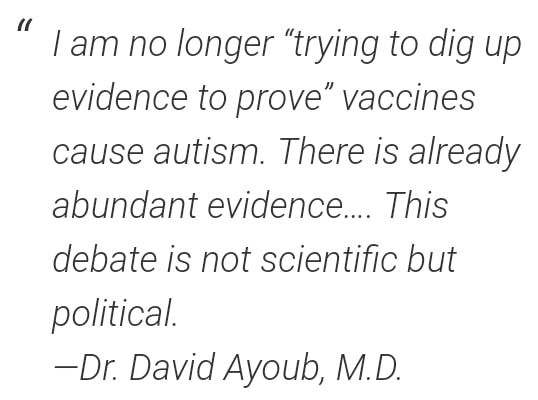 Reporter Sharyl Attkisson reported on the link, and the subsequent government cover-up.
Preview:
Vaccine-Autism Link Covered Up By Government: Sharyl Attkisson Reports (Preview)
Full Video:
Full Measure January 6, 2019 with Sharyl Attkisson - Vaccine-Autism Link & Evidence of a Cover-Up (Full Episode)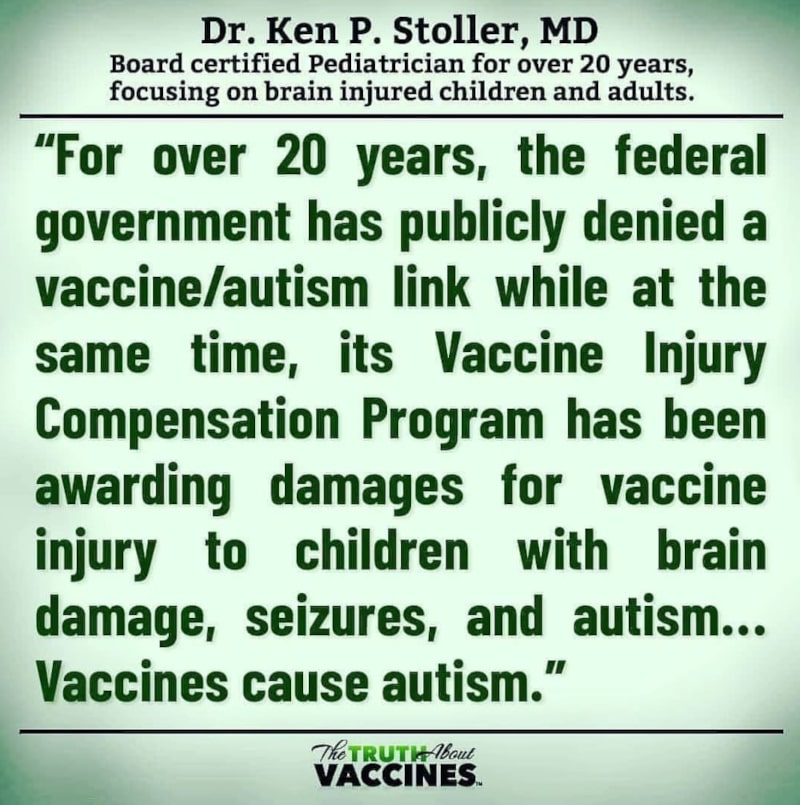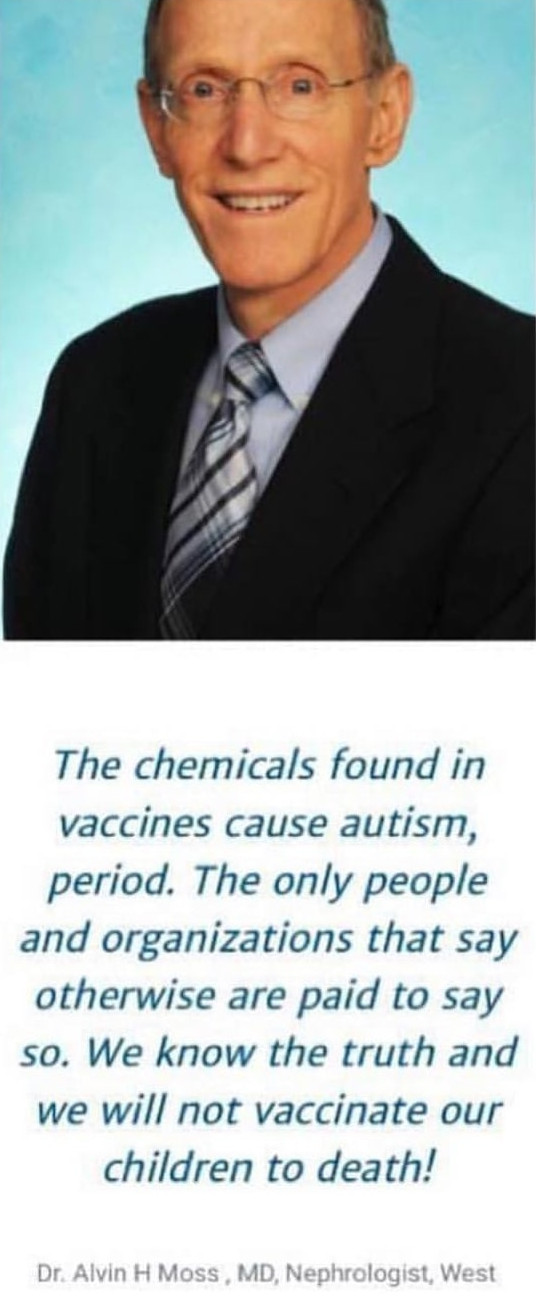 The secret U.S. Vaccine Court has been paying out billions of dollars to families of vaccine victims, including to those whose children became autistic as a result of vaccination:

https://www.huffpost.com/entry/post2468343_b_2468343 (Note - this article was removed from Huffpost after pressure from the pharmaceutical cabal, but it's still available archived, and still remains true.)
The vaccine/autism link was admitted on CNN, back when the television networks hadn't yet been fully corrupted by the pharmaceutical industry and other malevolent entities.
Yet children are still being injured, as humanity as a whole has failed to learn the truth.
VaxXed is a documentary that tells the story of how the CDC (Center for Disease Control) attempted to cover up evidence of a direct link between vaccines and autism. The evidence the CDC tried to destroy showed a clear cause-and-effect link between vaccines and autism, and that autism disproportionately affected African-American boys. This was not an accident.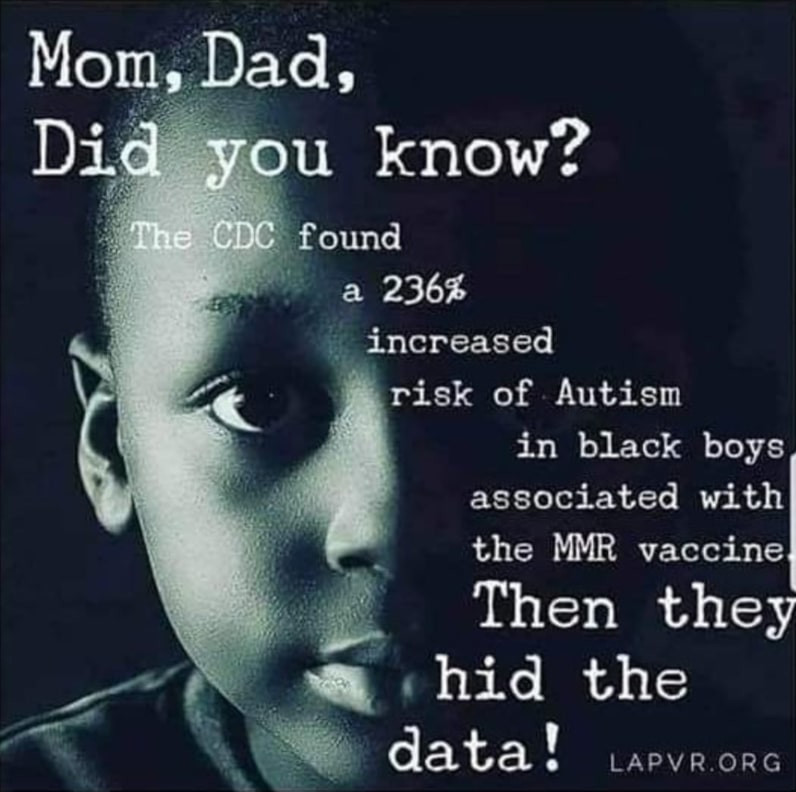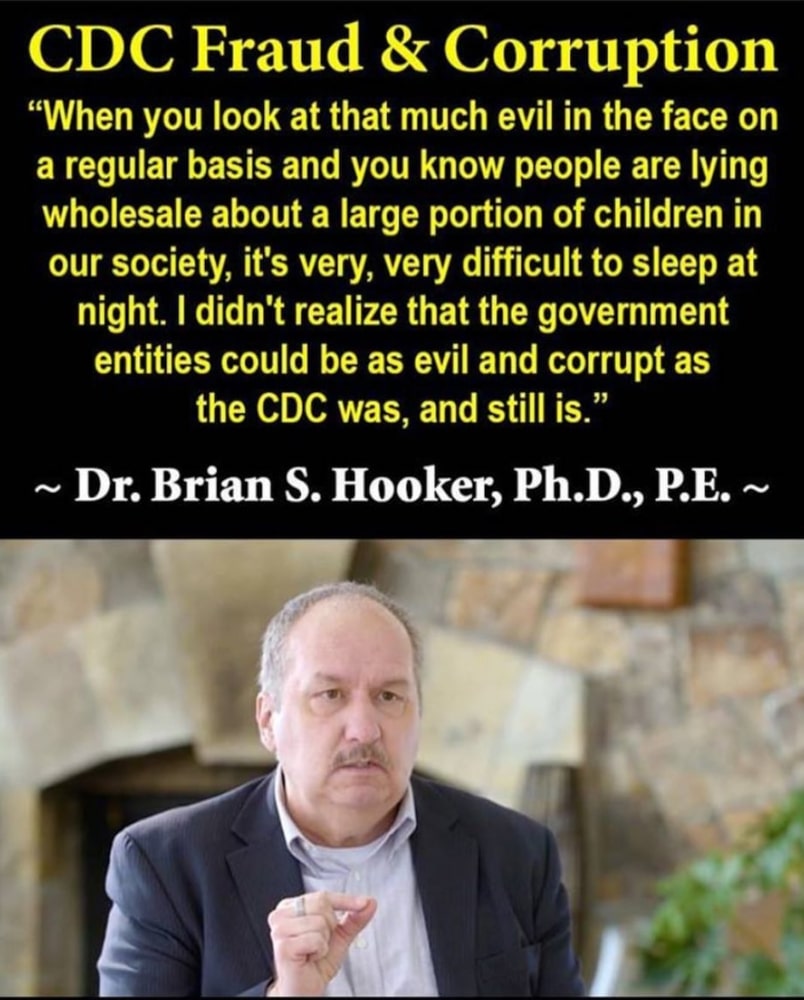 There was an aggressive campaign to keep people from seeing the film.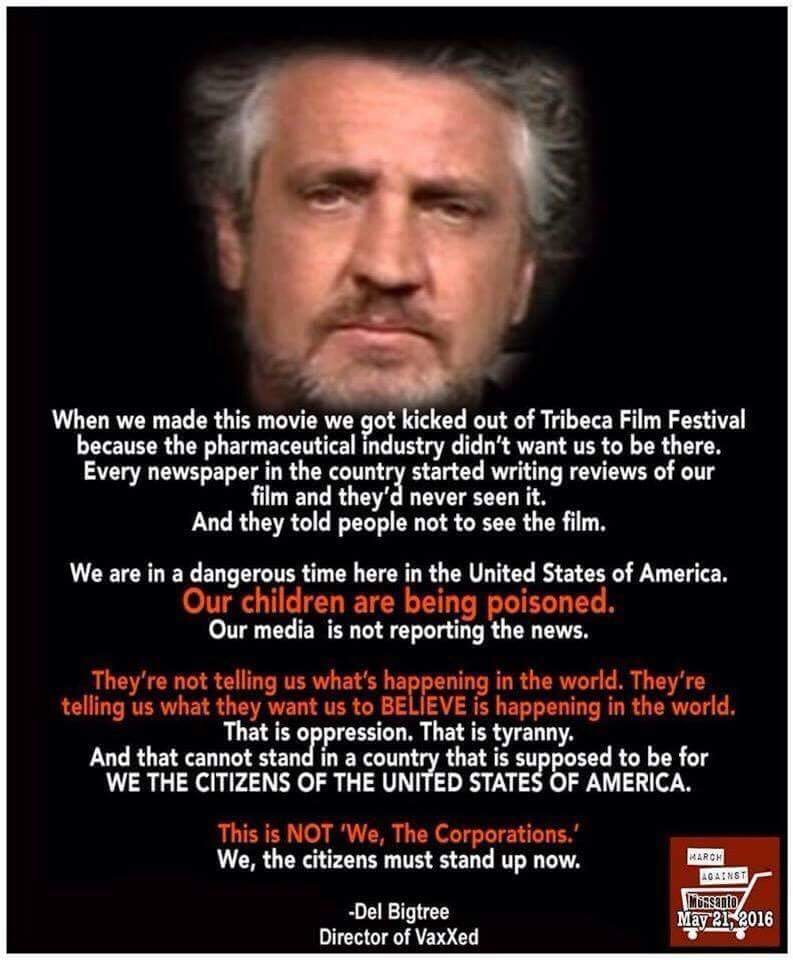 But the fraud and cover-up are well documented and undeniable.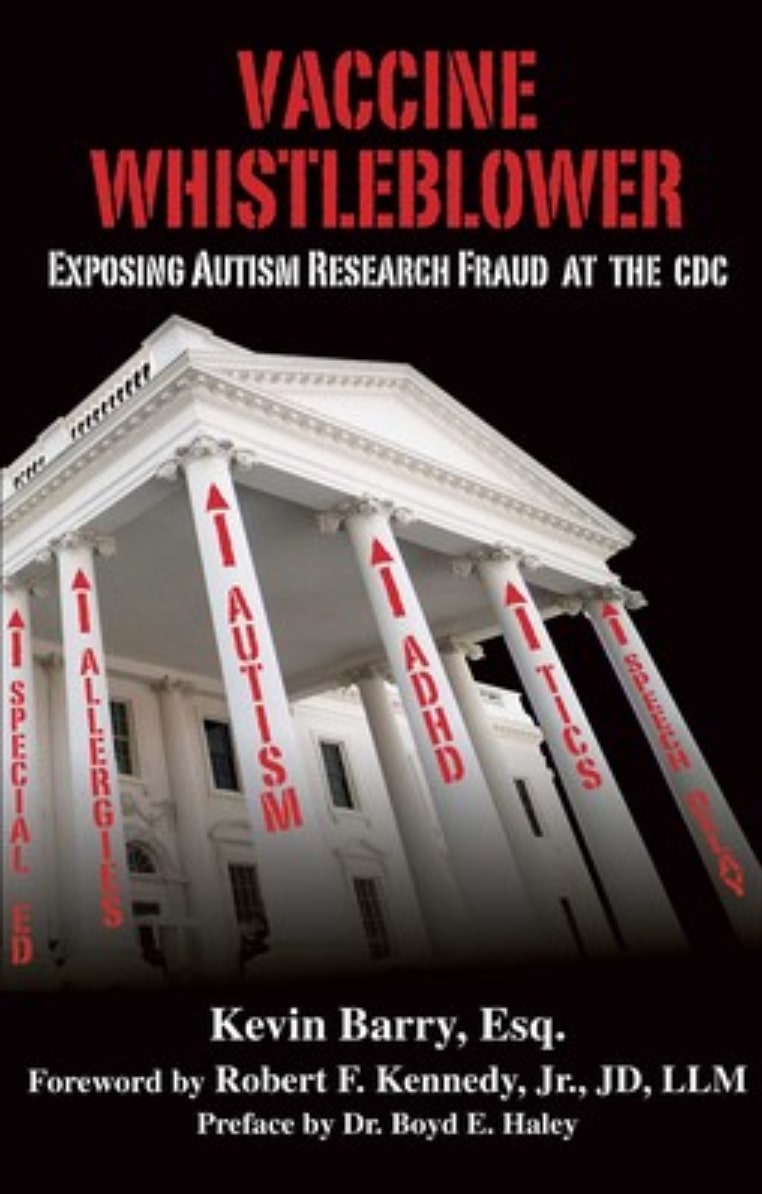 Autism is just one malady caused by vaccines.
Millions of children are being systematically poisoned and will be damaged for life.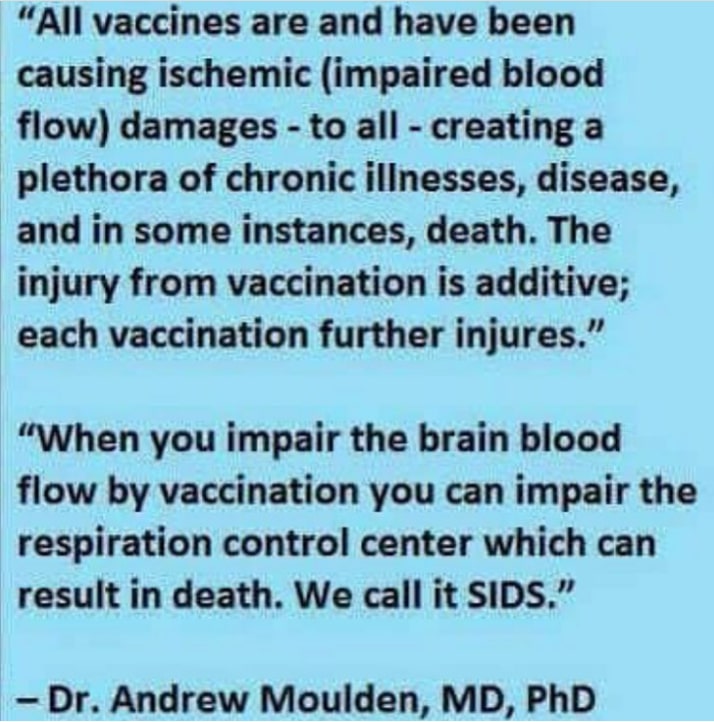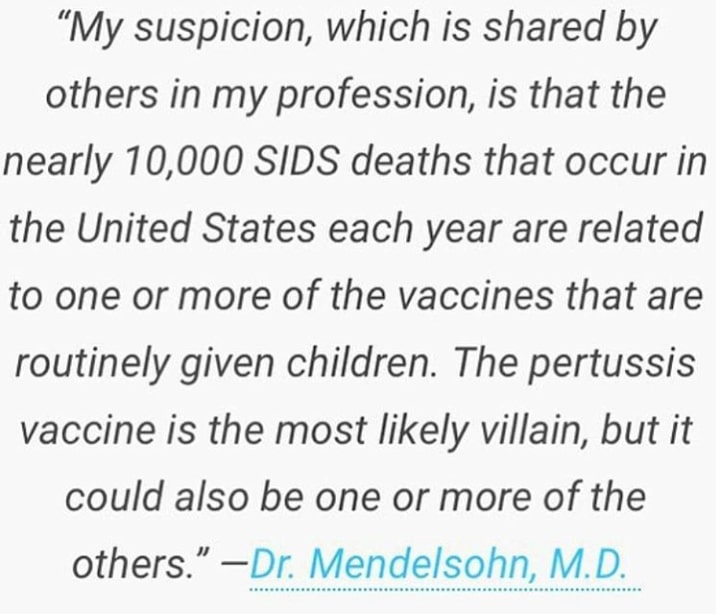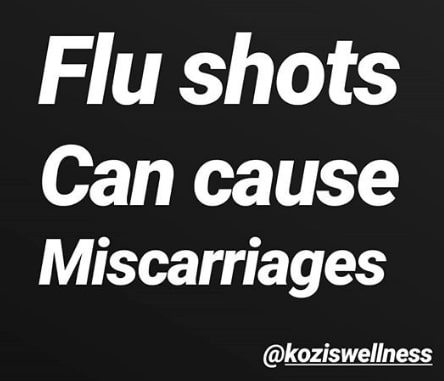 https://www.ncbi.nlm.nih.gov/pubmed/28917295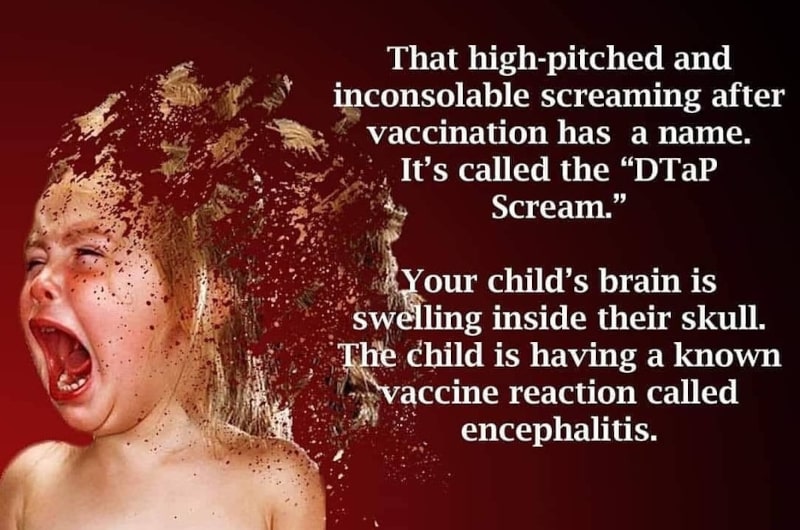 Vaccines have taken their toll in the United States, as more American newborns die on their first day of life than in any other industrialized nation. In fact, the United States experiences 50% more first-day infant deaths than all other industrialized nations combined. (https://www.cbsnews.com/news/us-has-highest-first-day-infant-mortality-out-of-industrialized-world-group-reports/)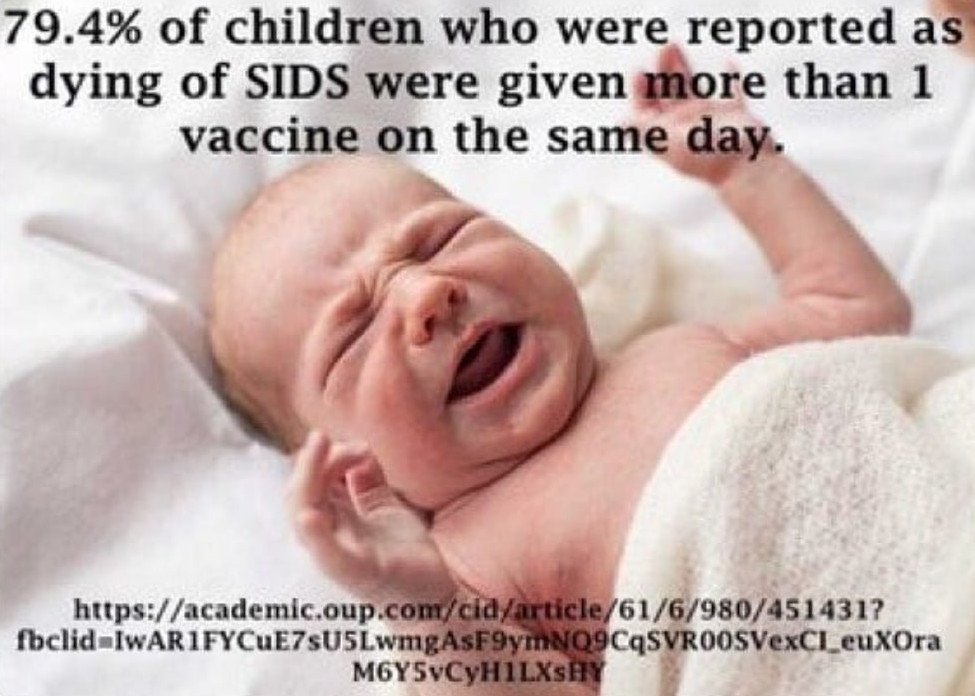 When young parents don't do their homework, the results are often catastrophic.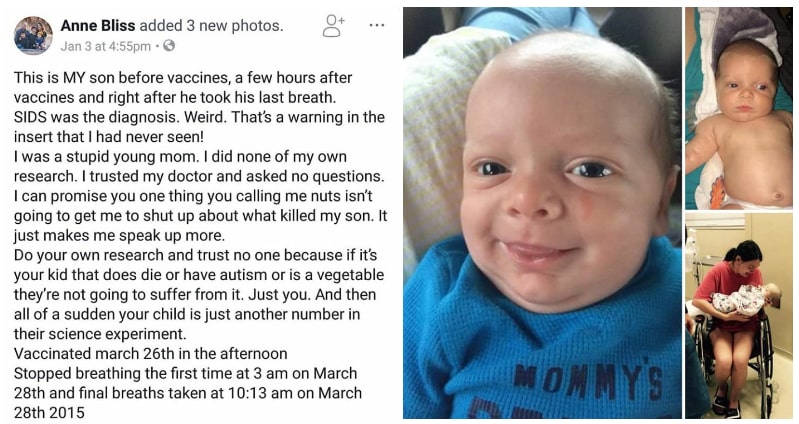 But it's not just children who are damaged by vaccines. Adults are also victimized.
Vaccines have also been shown to cause cancer, resulting in the slow and painful deaths of tens of millions.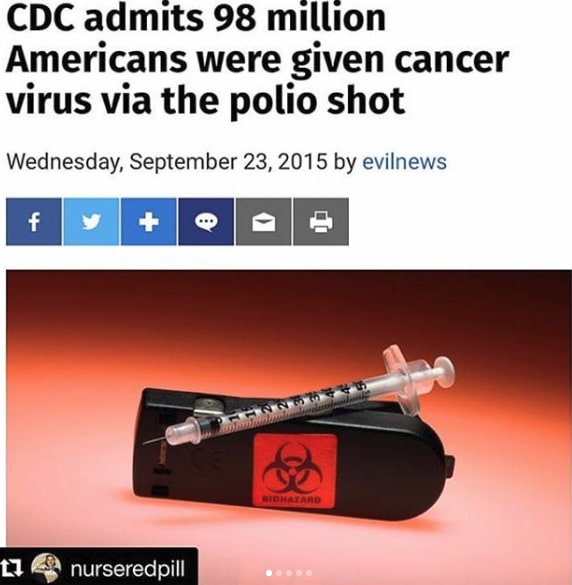 https://www.smh.com.au/national/deadly-shots-the-polio-vaccine-saga-20041023-gdjz1z.html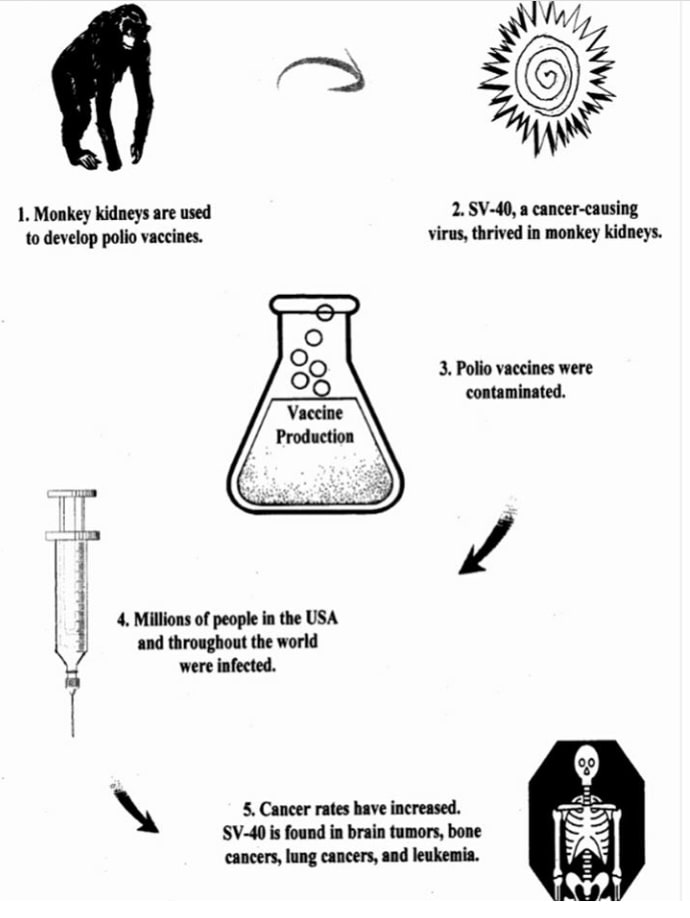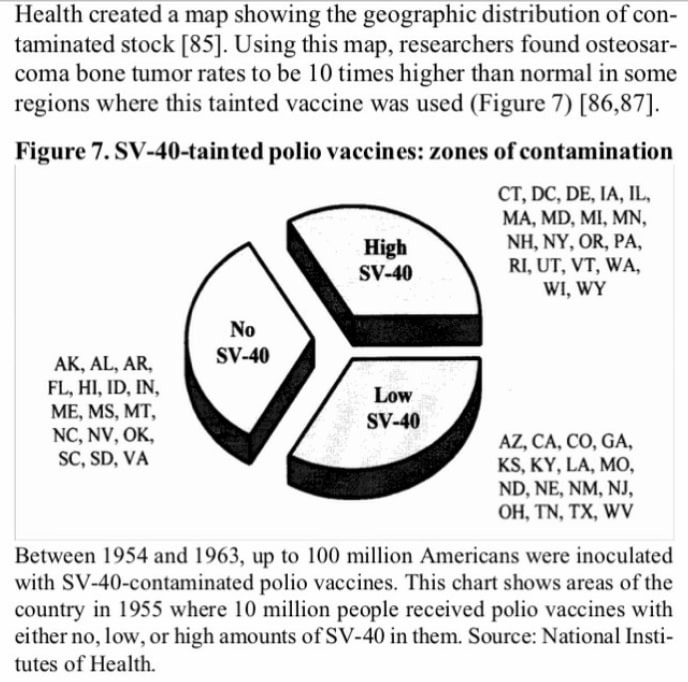 Note: The CDC, Snopes, RationalWiki.org, Science Based Medicine, Google, and other criminal entities tried their best to erase this information from the Internet, but people were able to save it. Below is some of that censored information.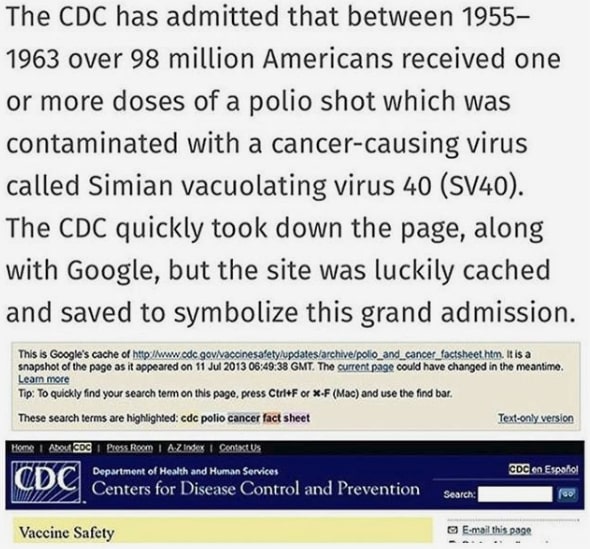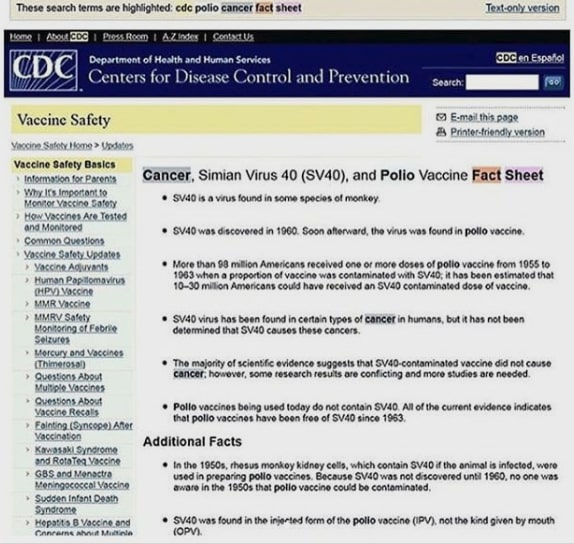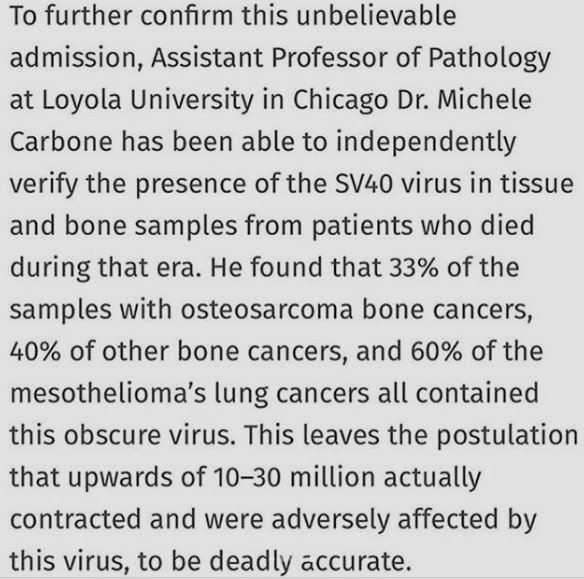 http://vaccines.news/2015-09-23-cdc-admits-98-million-americans-were-given-cancer-virus-via-the-polio-shot.html
Vaccines … Cancer in a Syringe!
https://thetruthaboutcancer.com/vaccines-cancer-in-a-syringe/
For those who understand the nature and history of vaccines, this wasn't an accident at all; it was deliberate.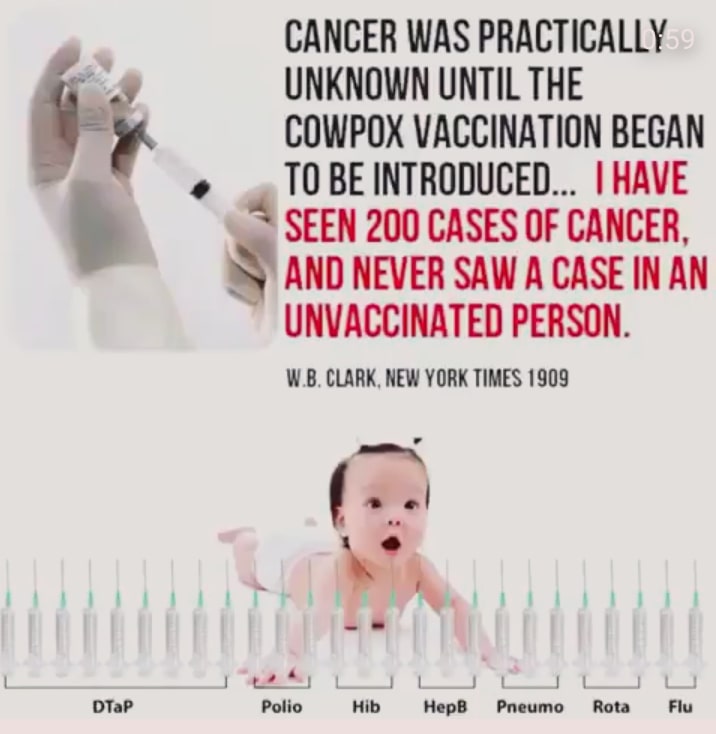 Vaccine developers and those who know the truth laugh, knowing that millions are falling victim to the vaccine hoax, and have died or will be dying slow, painful deaths as a result.
The HPV vaccine (Merck's Gardasil) has been another disaster for young girls and boys, causing infertility, paralysis, and death.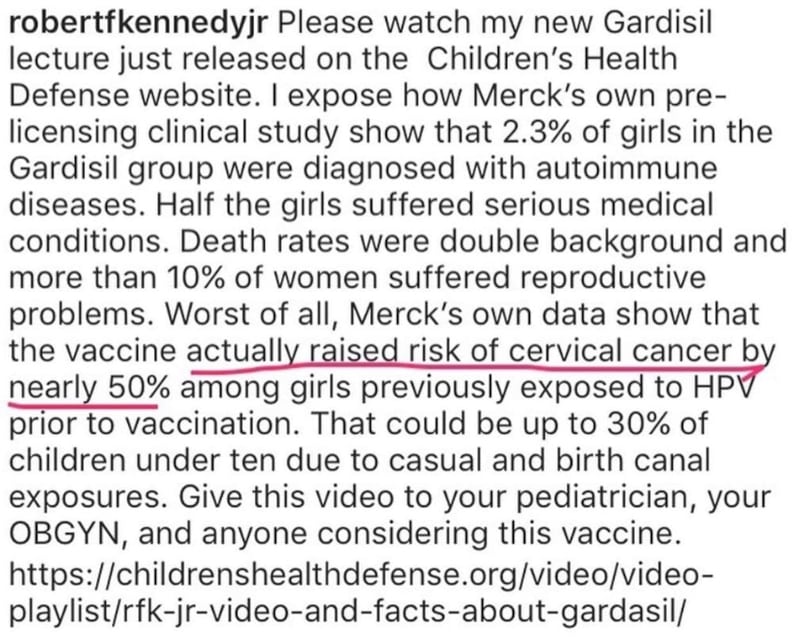 HPV Gardasil Vaccines Proves to be Lethal (Video)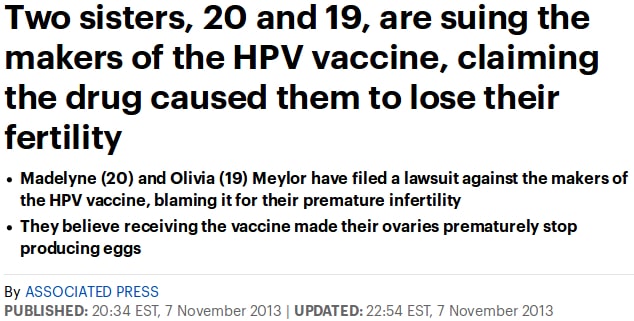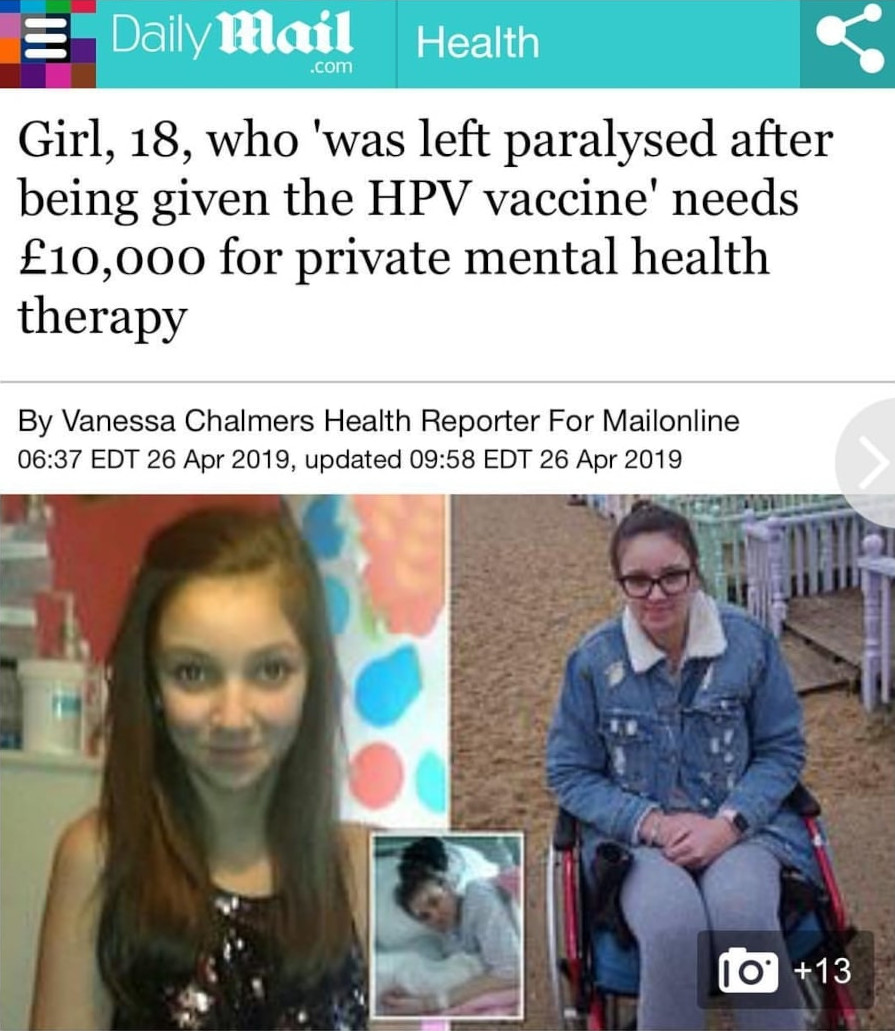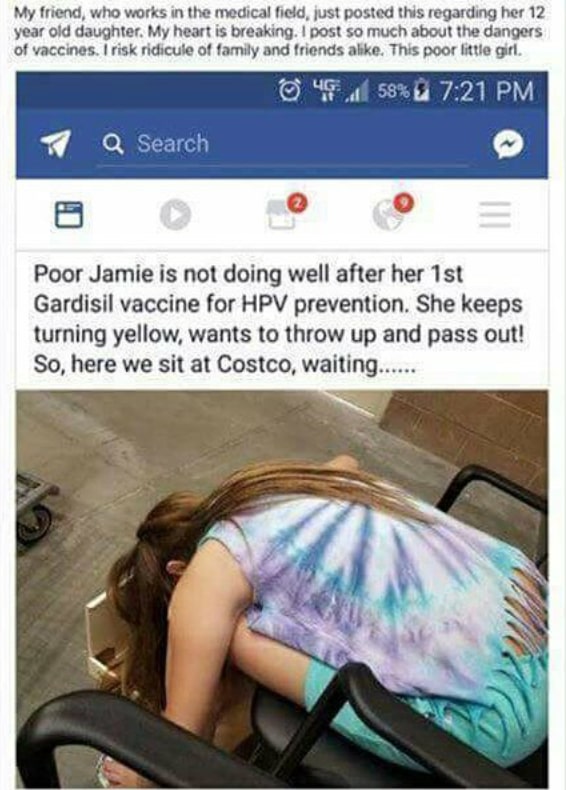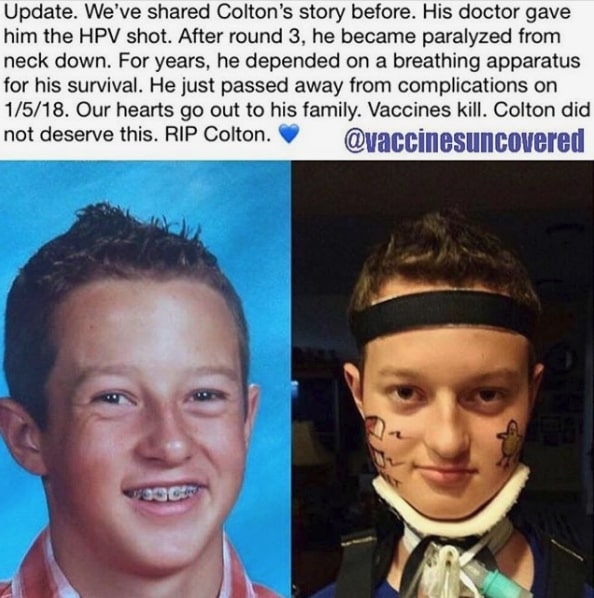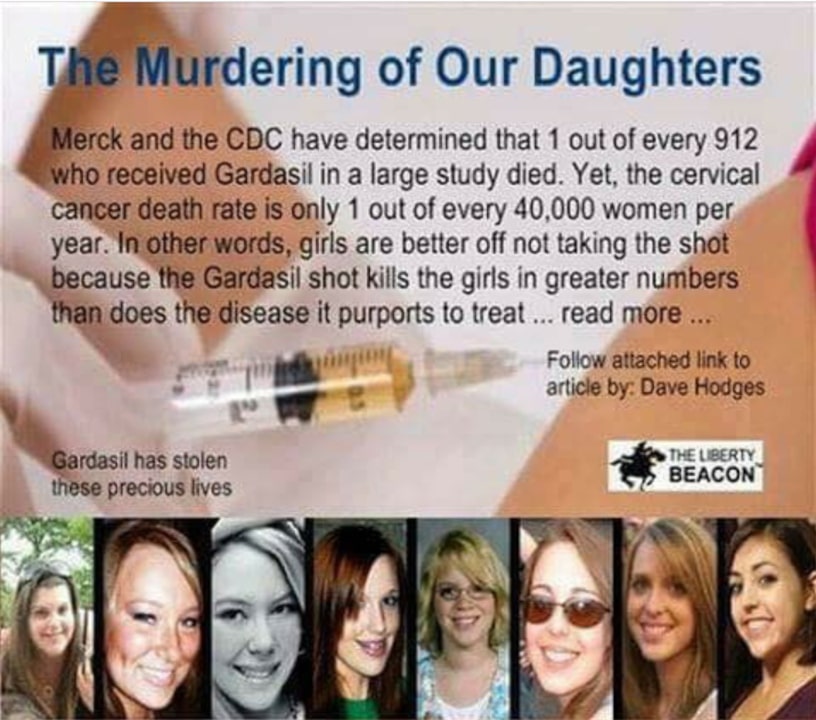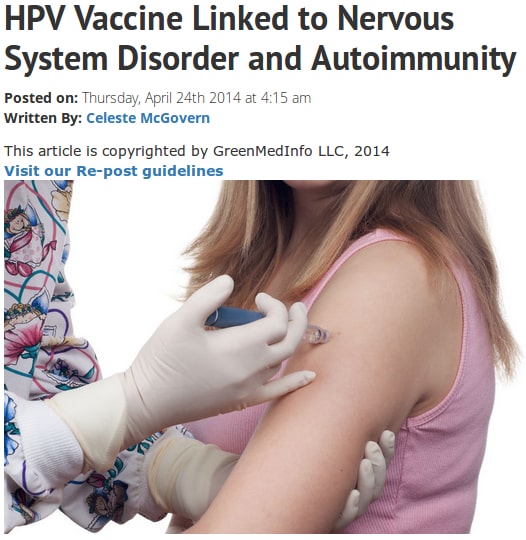 http://www.greenmedinfo.com/blog/hpv-vaccine-linked-nervous-system-disorder-and-autoimmunity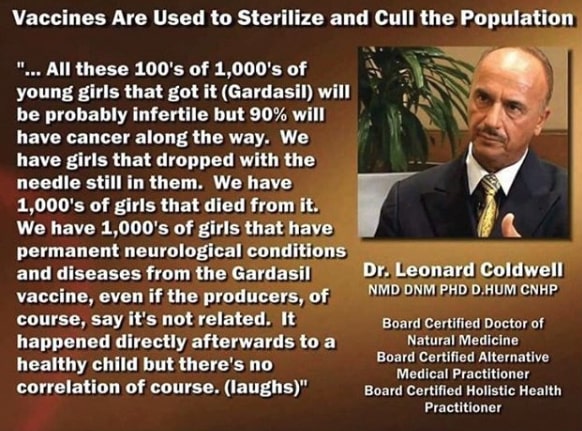 https://www.ncbi.nlm.nih.gov/pubmed/29889622